For Christine Rose, entrepreneurship is in her blood.
"Our grandparents harvested cranberries, they were farmers," the Boston business owner told The Plug. "We've always been exposed to it."
But the owner of Imani Massage and cofounder of 4 Corners Yoga + Wellness was hit hard by the pandemic. Revenues were down over 60 percent, and though they've slowly recovered, Rose said they are still down around 25 percent compared to before the pandemic.
Rose is not alone. Across the US, Black business owners have been heavily impacted by Covid. A report released earlier this year by the House Small Business Committee found that 41 percent of Black-owned businesses closed between February and April 2020, the largest closure rate of any racial group.
The federal Paycheck Protection Program pumped nearly $800 billion into businesses, but an analysis from The Center for Investigative Reporting published last month found that the rate of lending for majority-white areas was higher than for majority-Black, Latino or Asian areas.
But loans are just one part of economic recovery, according to Michael Mazur, vice president of business development at Colu, a customizable platform cities can use to reward customers for shopping locally.
"The loans are more of a lifeline to the businesses, they help the businesses survive and stay afloat," Mazur told The Plug.
"But what the loans don't do or the grants, is that they don't drive traffic to the business. So really, what good is a business surviving and having enough capital, maybe just to pay rent, if people aren't shopping there?" he said.
To tackle this, the city of Boston turned to Colu to try to help stimulate the recovery of their local economy and support Black business owners.
Incentivizing shopping Black-owned
In April, Boston Mayor Kim Janey announced the B-Local app, an initiative that was no-cost, all-reward for Boston business owners and consumers and was created using Colu's platform. By linking a card to the app, users earn rewards, called "Boston Points," for getting coffee, doing yoga or buying plants at local stores.
B-local users earn a minimum of 20 percent back in rewards at participating businesses, while shopping at a Black-owned business earns an extra 10 percent back. Depending on the business type, users can get up to 60 percent back on a single transaction and accrued Boston Points are redeemable as cash discounts at stores. Businesses get all the discounts reimbursed by the city, which is leveraging federal CARES Act funding to cover the cost.
Since its launch, B-local has garnered 5,567 registered users and over 2,700 participating businesses.
‍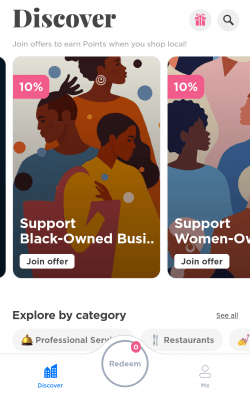 4 Corners Yoga + Wellness is one of 60 Black-owned businesses currently featured on the front page of the app offering users extra rewards if they shop there. Rose said so far she has not seen much of an impact from being part of B-Local, though she's hopeful that through more marketing on her end she'll see an uptick in foot traffic from the app. The city said since they are still in the pilot stage, they do not yet have data on how much more revenue Black-owned businesses may have received since being part of the program.
But B-Local is not the only platform attempting to gamify buying from Black business owners. Danielle McGee, a HBCU professor, is trying to create a platform that supports Black-owned businesses, Black-led organizations and Black-owned banks.
McGee is an entrepreneurship professor at Tennessee State University and the founder of Black Business Boom, a digital marketing hub for small Black-owned businesses. She is also the creator of The BLOC, a cashback platform set to launch its beta app this winter. Users will be able to earn rewards when they use a linked card at a participating Black-owned business and once they've accrued enough rewards, they'll be able to donate them to a Black-led nonprofit.
Users who bank with Black-owned banks will be incentivized with additional cashback offers, invitations to exclusive events, matching of their donations, merchandise and more.
"My hope is that our program helps to create ongoing behaviors in consumers that help support the growth of Black communities," McGee told The Plug.
American Express also launched a short-term cashback rewards promotion in December that highlighted 10 Black-owned small businesses. A spokesperson for the company did not share how many cardholders took advantage of the program. This summer, American Express will also be launching ByBlack, a platform of certified Black-owned businesses in partnership with the US Black Chambers, which will verify that businesses are majority-owned by Black and African-American individuals and is intended to provide them exposure to consumers and contract opportunities with large corporations.
But for Christine Rose, being able to keep owning her businesses isn't just about the profit.
"I'm in it to win it and I'm just gonna keep living my best life. This is what I thought that I would like to do and I'm grateful," she said.
‍