Ifeoma Ozoma is bracing herself for what might be a long road to employment. Along with nearly 20 million other unemployed Americans, she awaits her fate in the comfort of her Santa Fe, New Mexico, home.
While the COVID-19 pandemic is responsible for much of the job losses sweeping the nation, dealing with racism at work is what makes Ifeoma's professional future that much more disheartening.
Ozoma, along with colleague America Shimizu Binks, is among two of Pinterest's former Black women employees who departed the company just three days before George Floyd's death by police officer Derek Michael Chauvin, and just a week and a half before Pinterest CEO Ben Silbermann wrote a letter on the company's blog about Black Lives Matter and $1.5 million in support for racial justice and support initiatives.
Formerly serving on the social media giant's public policy team, both Ozoma and Shimizu Binks have spent the last few weeks rehashing their yearlong workplace experiences to reporters and across their timelines of what has been described as receiving unequal pay, gaslighting by managers, doxxing by a white supremacist coworker, and combating managers slow to address bias and racism in the workplace.
When industry giants began releasing statements in support of racial justice and equity following several protests and uprisings across the country, Ozoma decided to speak out when she saw Pinterest make claim to the promise of supporting Black employees when she and Shimizu Binks allege that they had experienced the complete opposite of support just a few days prior.
‍
‍Key Takeaways
Black employees at Pinterest, Facebook, Google, and others continue to vocalize concerns of internal racism within the workplace;
Early 2017 tech worker movements are gaining momentum, clearing space for racial minorities to fuel the agenda;
Ongoing online outing will continue as tech companies fall short in addressing discrimination and inequity within the workplace.
‍
"To see their statement after having been treated the way we were treated the last year and a half, it was just not making any sense," said Ozoma. Shimizu Binks agrees that the move felt "performative" and "symbolic."
For its part, a statement received via email by a Pinterest spokesperson stated that the company "took these issues seriously and conducted a thorough investigation when they were raised." The statement goes on to say that they are confident that both Ozoma and Shimizu Banks were treated fairly.
There is no doubt that the era of outing racism and discriminatory behavior within the workplace is among us, even if companies are ill-prepared to address any wrongdoings or acknowledge where their company culture might be harmful to underrepresented minorities.
Within the last few weeks, employees at media companies including Refinery29, Bon Appetit, and Okay Africa have organized to pen open letters and Twitter threads describing the ills they've faced.
And we're just at the beginning.
Black tech workers and other minority groups are locking in step, building on the growing tech worker movement of 2017, and strategically organizing ways to secure more equitable futures for themselves to include safer working environments, advancement opportunities, and HR policies that seriously address racial discrimination.
But without a clear path to addressing company culture and nonexistent racial discrimination policies, tech's most beloved unicorns are severely falling behind the impending fallouts.
‍
Momentum of a Movement
Ozoma and Shimizu Banks aren't the first Black tech workers to publicly air grievances against maltreatment within their predominantly white employer spaces.
Both professionals are well aware that by doing so, they're compromising their future employment.
"We felt like we had to say something while so many Black women experience this in corporate spaces and didn't want to give them the idea we just went away quietly. I don't know a Black woman who hasn't experienced something like this," explained Shimizu Banks.
Lawsuits and claims of discrimination have extended over the years at companies like Facebook, Google, Tesla, and several other Silicon Valley darlings that take on taglines about changing the world without accounting for how that shows up in the workplace.
‍
From our analysis of the over 200 companies that publicly supported Black Lives Matter and anti-racist language, and even pledged funding support to various organizations, less than 45% provided diversity reports detailing Black employee representation across their companies.
Even fewer make available documentation pointing to internal policies, procedures, or plans that demonstrate an explicit commitment to equitable hiring practices.
While representation has been a long-standing issue in the tech industry, worker treatment has been an unsung challenge that meant workers have had to navigate around racial politics in the hopes of not derailing their careers or being ostracized out of the companies they're employed by. But when they do, the consequences are detrimental.
‍
A 2018 Pew Research study found that Blacks in STEM jobs report experiencing discrimination in the workplace due to race more than Blacks in non-STEM related jobs, 62% vs. 50%.
The report also says that Blacks and Asians in STEM jobs, followed by Hispanics, are more likely than white STEM workers to say that their race or ethnicity has made it harder to find success in their job.
Black tech workers, however, appear to be increasing the sharing of their experiences in private group chats and through subculture environments on social media platforms like Black Twitter and Black Tech Twitter.
Following the release of our tech statement database, some users shared that it was the first time they felt equipped with a tool to show their employers the lagging racial representation and challenges they're facing internally.
New World Order
‍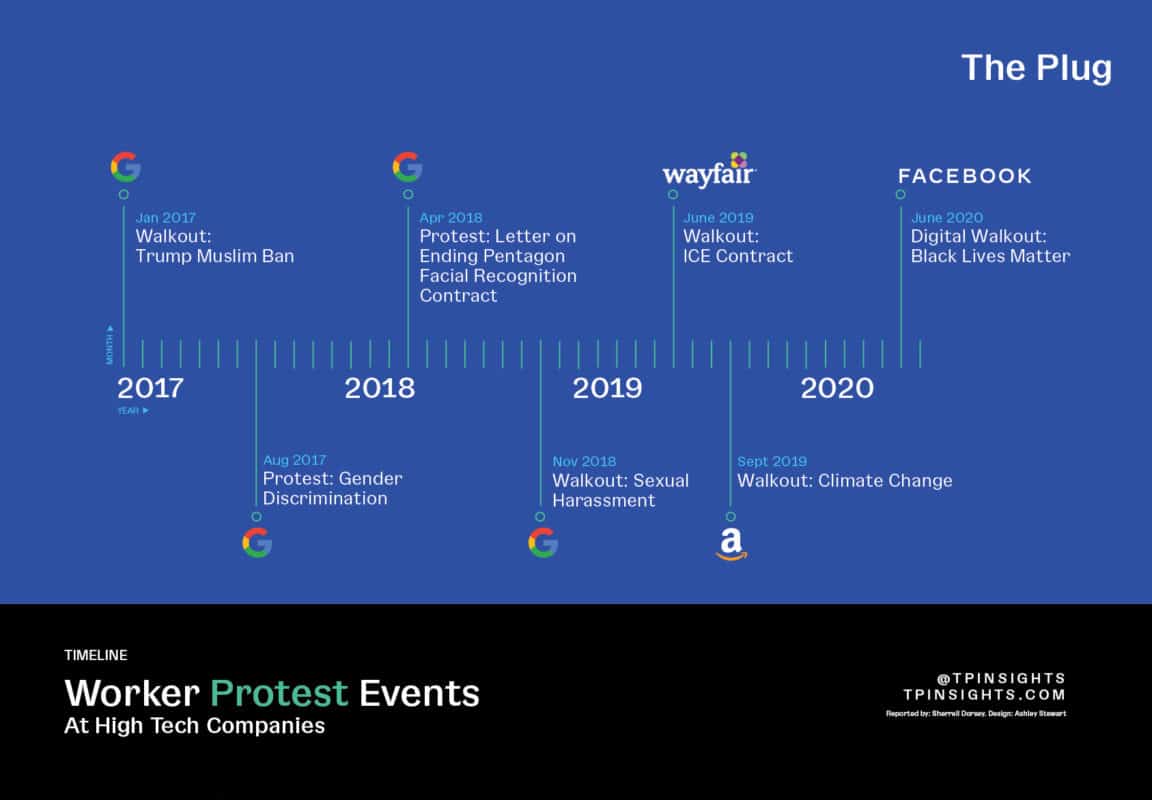 ‍
Tech worker organizing—defined by those employed directly by companies, and those who serve as part-time and full-time contractors to tech companies—has been rising since early 2017 with workers leading protests and walkouts to hold the companies they work for accountable for issues ranging from unfair labor practices to controversial government programs.
Responses to these movements, memos, and public protests have received attention as of late, including Google canceling its contract with the Pentagon at the behest of workers concerned about facial recognition software violating human rights.
The movements serve as the underbelly of tech worker confidence that's been seeding early labor organizing and clears a path for racial minorities to begin calling their employers to court for allowing bad behavior to escalate.
Tech companies, in their scramble to adopt new policies for future of work, will have to make clear distinctions about antidiscrimination and harassment policies to employees along with the rules for engagement in addressing employee concerns before they're outed on the internet.
Organizing among Black tech workers starts in digital communal spaces. But as the momentum around America's battle with inequality continues to speed up, we'll see tech-workforce-union organizing move far beyond the usual call to the NAACP and extend toward class-action pursuits.
For workers like Ozoma and Shimizu Binks, the changes can't come fast enough. Following their departure from Pinterest, Shimizu Binks says she doesn't have a job lined up but is taking the time off she needs to heal from her experiences at the company.
"I support not just myself but my mother. I'm aware of the financial and career risks. But it was worth the risk because this is such a pervasive problem that requires systemic change," she said.
‍