Recessions typically wreak havoc on the employment prospects of Black Americans, who are often the first to lose their jobs and the last to be rehired. One prominent economist, Algernon Austin, put it this way: "In what looks like good economic times nationally, most of black America is still experiencing a recession. When white America is in recession, Black America is in an economic depression."
Yet Black America seems to be holding on to their jobs during the onset of this COVID-19 related global downturn. April's job report may tell a different story, especially as unemployment claims surged late March into April. But per the government's March 2020 data—although the unemployment rate for Black America is still the highest across various groups—the change in the unemployment rate among all demographics from February 2020 to March 2020 was lowest for Black workers.
‍
As States turned to stay-at-home and lockdown orders to contain the spread of coronavirus, employers instituted work-from-home policies by mid-March. At the time, data from the Bureau of Labor Statistics stated that the share of Black workers who could telecommute was only 19.7%, causing many to predict that Black workers would lose their jobs first and fast. These beliefs about the disproportionate impact of remote work policies on Black America have proven to be off the mark, however.
THE ACTUAL STATE OF THE BLACK ECONOMY BY THE DATA
The latest U.S. jobs report shows that COVID-19 related job losses in March led to the largest over-the-month increase in the unemployment rate since January 1975. With 701,000 nonfarm payroll jobs lost, unemployment spiked across America.
‍

However, it impacted Black workers to a lesser degree. The change in the unemployment rate for Black workers was 65% lower than the change in the national average. Within the group, Black women in particular experienced little change in their unemployment rate — the least across all race-gender groups.
‍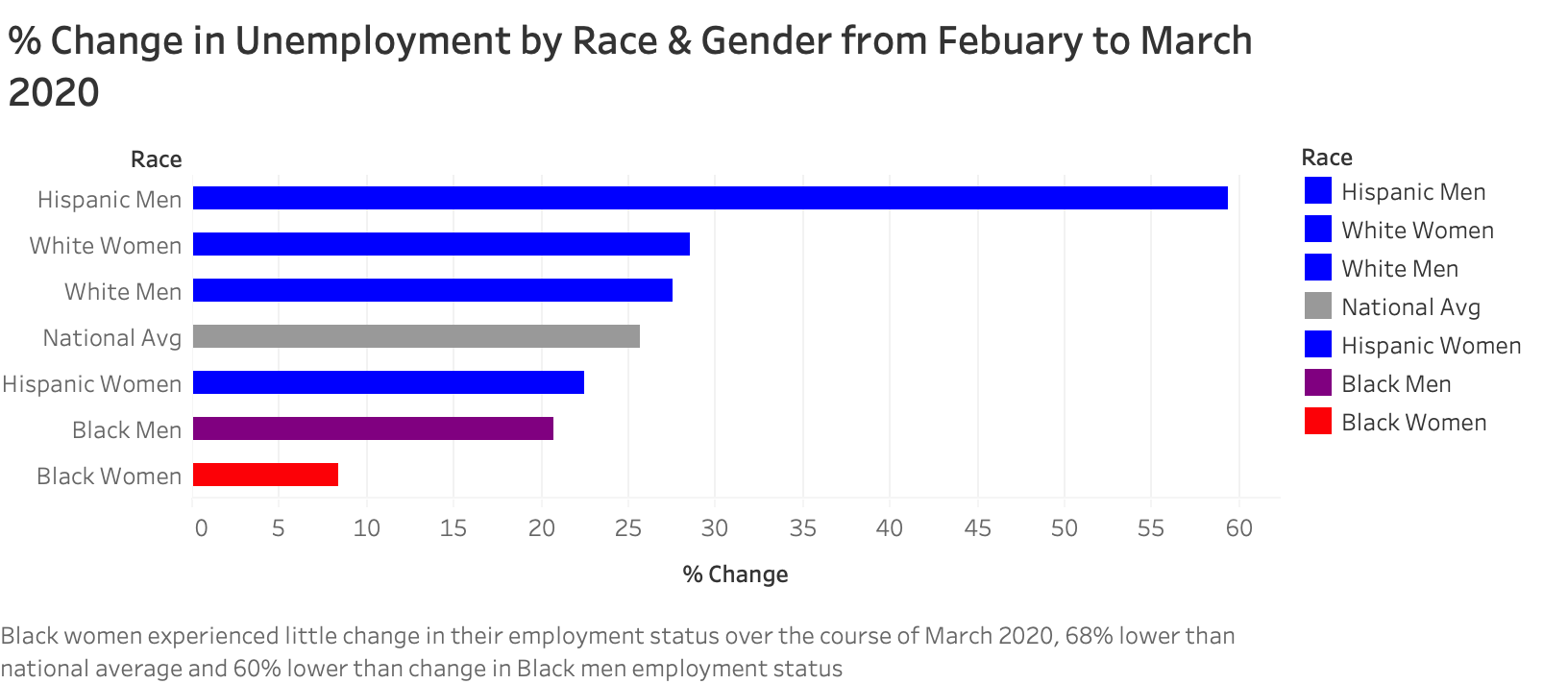 Compared to the initial job losses of the 2007–2008 Great Recession, which saw Black employment tumble immediately, the 2020 numbers are surprising.
‍
Could this be something to celebrate? Is this a story about the growing resilience of Black workers in America's labor market?
BLACK WORKERS ARE THE LIFELINE OF AMERICA
Actually, what the data tells us is that there is an overrepresentation of Black workers
in the industries of transportation and utilities, healthcare and social assistance, public administration, and health and education. These four sectors account for about 70% of Black workers across all industries and are deemed essential across America, exempting them from stay-at-home orders during this pandemic.
‍
In sum, many Black workers are still at work. Though the Black unemployment rate will surely increase as layoffs across all industries continues to rise and more workers of all demographics opt out of the labor market for health reasons, the change in the Black unemployment rate may not be as steep as those experienced for other groups and definitely not as sharp as that experienced in previous economic downturns.
This is still a concern for worry: As Black workers commute to and stay at work at higher rates than other groups, they remain highly susceptible to contracting COVID-19 and potentially exacerbating the rate of infection and even death among the group.
SUPPORTING BLACK WORKERS AND THE WAY FORWARD
So what now? While it's encouraging to observe that Black workers have kept their jobs amid increased virus-related layoffs, Black leaders must organize fast to ensure the physical, mental, and economic well-being of the community before things get out of hand in either three spheres.
It is still too premature to make conclusive claims about the Black economy during this global downturn, but this early insight from available data can be a meaningful guide for community dialogue and action during this time of great uncertainty.
Black leaders, influencers, and interest groups such as the NAACP and Color of Change should organize a virtual State of the Black Economy Convention to bolster, understand, and support Black workers and their physical, mental, and economic well-being at this time. Some potential sessions for such a convention could include:
Information sessions led by community health care workers to empower and educate Black workers about how to stay safe and healthy
Community-wide open forums to share the latest opportunities and tech advances
Ideation with Black techies and enthusiasts on building models, dashboards, and predictive algorithms to support Black leaders with data for advocacy and policy design
Remote work training for Black youth who are native content creators on the web, as the Information Services (i.e. tech) industry continues to see substantial gains in employment during this time
Indeed, the world is a much different place than it was just a month ago. But with data and the force of will, the Black community can mobilize to strengthen and support the community's overall well-being during this unprecedented time.
About the Author
Bridget Boakye is a data scientist, entrepreneur, and author of a No. 1 Amazon New Release, Should I Return. She has published over 100 articles with more than 1 million-plus views in CrunchBase, the Data-Driven Investor, Face2Face Africa, Blavity, and the Future of Ghana publications. She is committed to uplifting Africa and its diasporic communities through data, storytelling, and business.
‍