Editor's Note: The Plug has published an updated analysis looking at FY21 HBCU endowments.
KEY INSIGHTS
Howard University has the largest endowment of any HBCU at $712.5 million
South Carolina State University's endowment increased a whopping 1,128 percent from 2015 to 2020
Simmons College of Kentucky's endowment decreased from $102.6 million in 2015 to nothing in 2020
---
While HBCUs play an outsized role in educating Black students, they are underfunded. Although they make up just three percent of America's colleges and universities, HBCUs are responsible for more than 20 percent of African American graduates, but they lack the endowment and resources of Ivy League institutions.
The Plug analyzed six years' worth of data from the National Center for Education Statistics to create a database of the value of all HBCU endowments from June 2015 to September 2020, the most recent data available. Ten HBCUs reported in 2020 that they did not have endowment assets.
Howard University has the largest endowment of any HBCU at $712.5 million. In order to ensure that the endowment continues in perpetuity, only four percent of it can be spent each year.
Howard's endowment pales in comparison to many non-HBCUs. Though it often ranks within the top 100 universities in the nation, the school's endowment size ranks #160, according to a report by The Century Foundation.
In contrast, Harvard University has the largest endowment in the nation at more than $53 billion. Just four percent could run Howard and the Howard University Hospital for two and a half years, according to David Bennett, Senior Vice President for Development and Alumni Relations.
"The scale of this is so fundamentally different, that this idea that Howard's is the largest [endowment of all HBCUs] somehow suggests that we're flush, and that is simply not the case," Bennett told The Plug.
In fact, the value of all HBCU endowments in 2020 combined is just 11 percent of Harvard's endowment in 2020.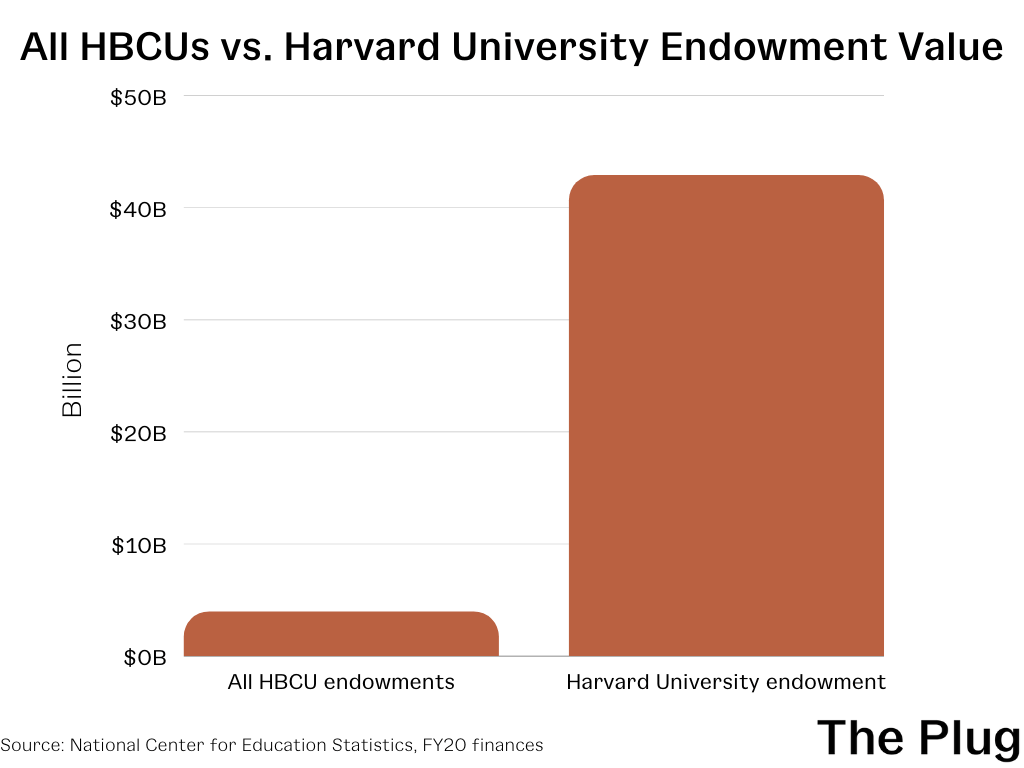 Andre Perry, Senior Fellow at the Brookings Institute, testified to Congress last year that the root of the massive differences in endowments goes back centuries.
"There's lots of endowments that — I hate to put a damper on this — were created from cotton money, alcohol money," Perry said.
After the murder of George Floyd, HBCUs received renewed attention and an influx of money. Philanthropist and ex-wife of Jeff Bezos, MacKenzie Scott gave a total of $556 million to HBCUs from July 2020 to December 2020, with several schools putting portions of her millions towards their endowments.
Base10 Partners announced in May 2021 that it had raised a $250 million fund and would donate half the fund's carried interest to HBCUs to support their endowments.
However, the impact of this influx of cash remains to be seen since the Department of Education has yet to release fiscal year 2021 data.
Here's a breakdown of the largest HBCU endowments, their growth and their decline:
Top 10 largest HBCU endowments
Howard University: $712.5 million
Spelman College: $377.9 million
Hampton University: $280.6 million
Meharry Medical College: $179.5 million
Morehouse College: $157.1 million
Xavier University of Louisiana: $147 million
Tuskegee University: $123.4 million
Alabama State University: $111.3 million
Morehouse School of Medicine: $108.2 million
Dillard University: $92 million
HBCUs whose endowments grew by more than 100 percent from 2015 to 2020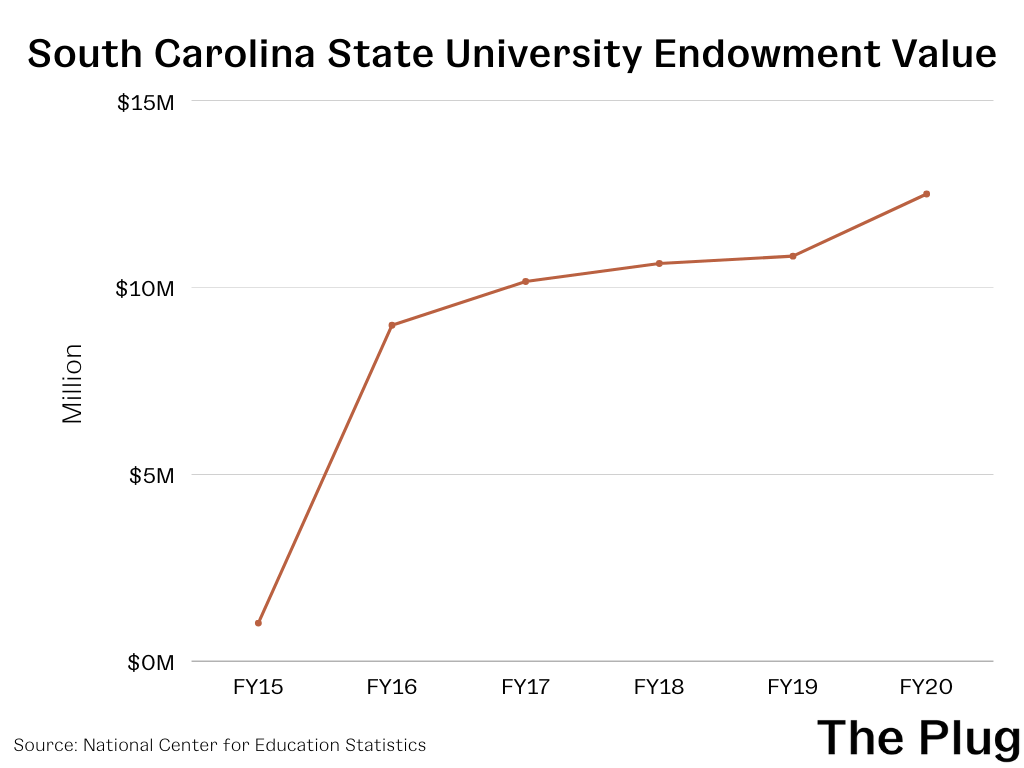 South Carolina State University: Increased a whopping 1,128 percent
Coppin State University: Increased 620 percent
Norfolk State University: Increased 239 percent
Jackson State University: Increased 175 percent
Central State University: Increased 147 percent
University of Arkansas at Pine Bluff: Increased 116 percent
Elizabeth City State University: Increased 114 percent
Texas College: Increased 108 percent
HBCUs whose endowments decreased by 50 percent or more from 2015 to 2020
Paul Quinn College: Decreased by 52 percent
Clinton College: Decreased by 54 percent
Lincoln University: Decreased by 69 percent
Shorter College: Decreased by 100 percent. As of fall 2020 reports, they do not have endowment assets
Simmons College of Kentucky: Decreased by 100 percent. As of fall 2020 reports, they do not have endowment assets.
Enter your email to access the complete database of HBCU endowments: