KEY INSIGHTS
Over the past four decades, HBCUs have received nearly 400 patents
The schools have increased efforts to turn these inventions into businesses through commercialization and licensing deals
Patents and research are just one of the ways HBCUs are innovating and represent opportunities for companies looking for new tech and science products
‍
Adapted from this week's HBCU newsletter. Sign up NOW to make sure you get exclusive HBCU videos, news and analysis in your inbox every Wednesday morning.
The Plug has created one of the first comprehensive databases of all the patents that have been granted to HBCUs since 1978.
Over the past four decades, HBCUs have amassed nearly 400 patents, with Morehouse School of Medicine having the most at 83.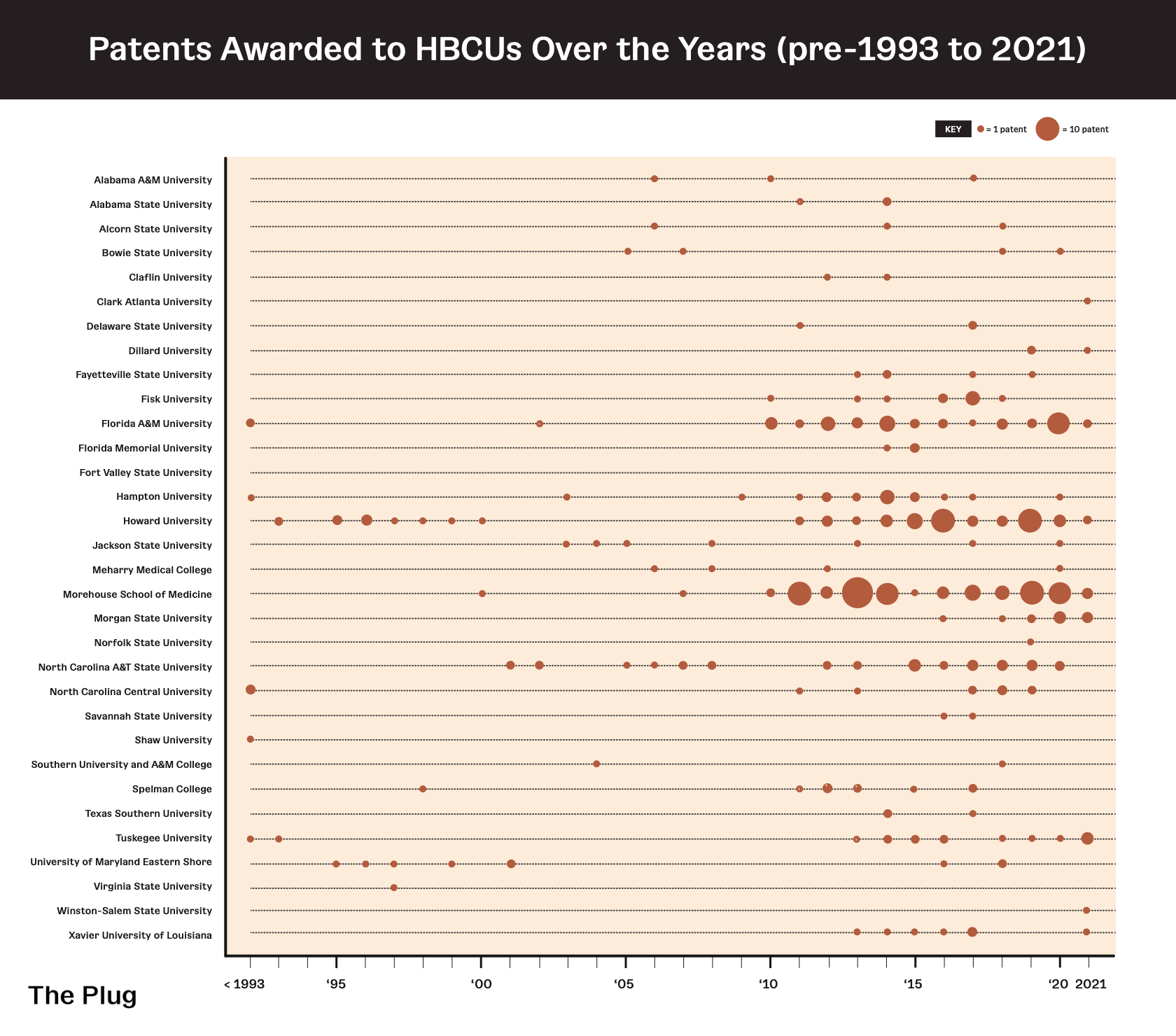 The inventions range from a process created to separate and purify rare earth elements developed by researchers at Winston-Salem State University to scientists at Florida A&M University cultivating two new types of grapes.
HBCUs have increased efforts to turn these inventions into businesses through commercialization and licensing deals.
Morehouse School of Medicine, Howard University, Benedict College, North Carolina A&T State University, Florida A&M University and Jackson State University are some of the schools with offices dedicated to helping license research to companies.
Because of Jackson State University research, there are now tracking devices that help locate fishermen to make sure they are safe as well as new military technologies.
Howard University has brought to market medical devices, AIDS treatments and a secret deal related to a large electrical grid system.
At Morehouse College, at least one of its patents was obtained in coordination with two industry partners and has resulted in a product that is currently on the market, an emergency response biohazard cleaner.
Morehouse students have also been able to develop businesses through the Morehouse Innovation and Entrepreneurship Center that have gone on to be funded by companies like Y Combinator.
Patents and research are just one of the ways HBCUs are innovating and represent opportunities for companies looking for new tech and science products.