Adapted from this week's HBCU newsletter.
Fortune 500 companies with a Black HBCU-alum board member
Since 2020, there has been renewed attention to making sure Black Americans are adequately represented in corporate leadership. A new analysis by The Plug looking at boards of directors of Fortune 500 companies shows nearly 12 percent have at least one Black board member who is an alumnus of an HBCU, a striking figure as HBCUs make up just three percent of colleges and universities in the U.S.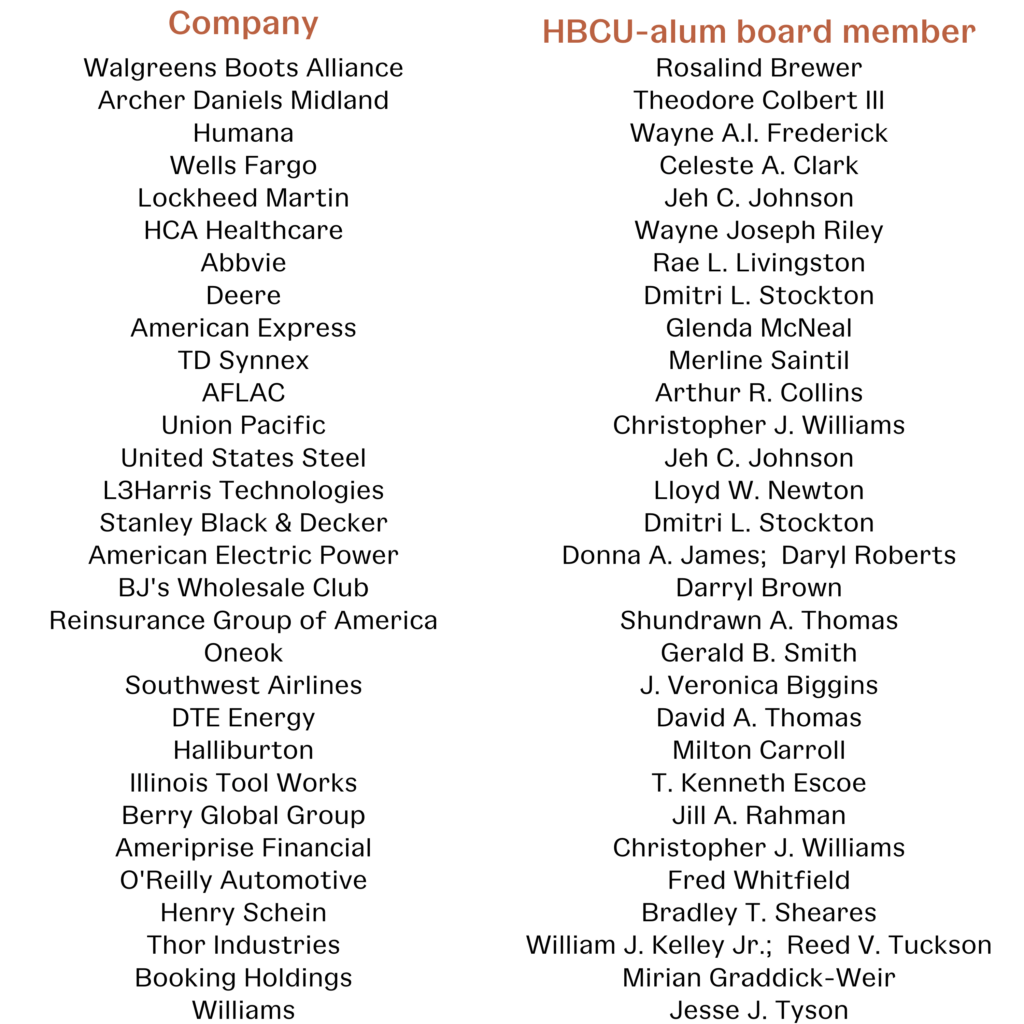 This latest analysis just adds to the growing research that highlights how HBCUs routinely punch above their weight in producing Black scholars and leaders.
According to the National Science Foundation, almost 18 percent of Black STEM bachelor's degrees are awarded from HBCUs and one-third of all Black students who have gotten a doctorate earned their bachelor's from an HBCU.
Last year, I also reported on preliminary research from a nearly million-dollar research project conducted by professors at Howard, Claflin University and Jackson State University also show Black students who go to an HBCU are more likely to graduate with a STEM degree than those who attend a non-HBCU.
HBCUs also provide a host of positive social impacts. They are drivers of upward mobility and studies have shown that HBCUs protect the physical and mental well-being of students.
For too long, the narrative around these institutions has been one of deficit and unfair apples-to-oranges comparisons to predominantly white, better-resourced institutions. But the data shows that HBCUs are small but mighty institutions.
---
New directory launched to create database of HBCU-founded startups

Last week, the HBCU Founders Initiative (HBCUFI), a nonprofit dedicated to supporting HBCU founders on their entrepreneurial journey, launched their Startup Look Book, which will be a directory of companies where at least one founder is a current student or graduate of an HBCU. The initiative is aimed at helping investors find and fund diverse founders.
"Many VCs are saying hey, we need to make sure that we're not overlooking some great opportunities, but oftentimes they don't know where to start and recognizing that there are 100 plus HBCUs out there, if there's a way to kind of have a one-stop shop, it would obviously help facilitate some of that engagement," Marlon Evans, President of HBCUFI, told The Plug.
The database will compile basic information about the company as well as details on funding they've already raised and what they are now looking to raise to help connect the startups with potential investors.
The Look Book is just an extension of the work HBCUFI has been doing since 2020 to help support HBCU founders. In the directory now are eight companies who were all part of an HBCUFI summer accelerator held last year, one of the many accelerators the organization has hosted over the past two years.
This fall, the nonprofit is expanding its accelerator program to seven HBCU campuses for the first time. Students at Elizabeth City State University, Oakwood University, Bowie State University, Spelman College, Prairie View A&M University, Morgan State University and North Carolina A&T State University will have the chance to complete a program where faculty will help them build out their business idea and at the end, students can compete in a pitch competition for $20,000 in non-dilutive funding to create their MVP.
HBCUFI is also currently raising its own investment fund to be able to invest in HBCU-founded companies. Evans said the fundraising is ongoing, but that they hope to raise a $40 million fund eventually.
"​​We've really just been following the bouncing ball in terms of where we think we can have an impact," he explained.
"It started with, there's a void on HBCU campuses, many of which didn't have accelerators on their campus, so let's fill that void. There was a lot of point-in-time activity, a pitch competition here or a hackathon, but nothing that was continuous. And so we tried to fill that void, but advisory support only gets you so far," Evans said.
"So we started providing non-dilutive capital to help the companies get going. But then we also recognize that many of them don't have access to the next round — the angel, the family and friends — to get the company off the ground and that's where the fund comes in. But we all know that we can't do this all on our own. So the Look Book helps us attract other investors who can look at these companies as well."