National Collegiate Athletic Association (NCAA) athletes will now be able to directly profit after the NCAA board of directors approved Wednesday an interim name, image and likeness (NIL) policy that will allow college athletes to make money from endorsements and sponsorships without losing their amateur status.
While this is a seismic shift for most of the top college athletics departments in the country, its effect on Historically Black Colleges and Universities is still unclear since HBCUs are some of the most under-resourced schools in the NCAA.
The combined 2019 revenues of nearly every public Division I HBCU were less than the revenues of each of the top four schools in the division, an analysis of data compiled by USA Today shows.
‍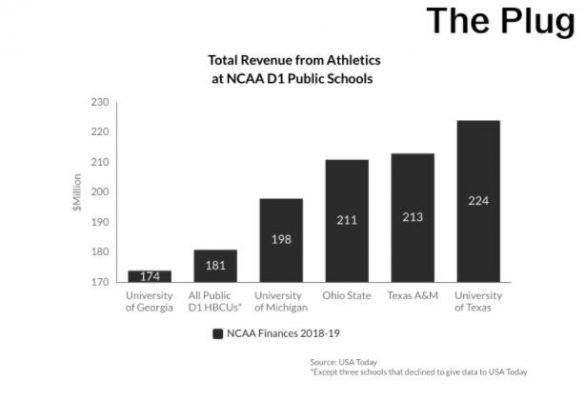 However, the top non-HBCU schools are profiting from the Black talent on their teams while failing to adequately serve this population. For example, in 2020, only 5 percent of students at the University of Texas were Black, but the most recent diversity data for their football team in 2017 showed that 50 percent of players were Black.
But while money pours into those schools, the lack of resources at HBCUs makes it hard for them to compete for top talent—only one five-star high school basketball recruit has ever chosen to go to an HBCU. Howard University President Wayne Frederick worried that changes to NIL rules and other student-athlete compensation could widen this gap.
"I have concerns about many of the proposals that would create tremendous burdens on smaller colleges and universities, particularly those historically Black institutions that do not have the same resources as some of our wealthier and more privileged peers," he testified to a Congressional committee at the beginning of June.
The new NIL policy is not the only recent change that affects how college athletes are compensated. It comes on the heels of a unanimous Supreme Court decision last week that ruled the NCAA could not prohibit its member schools from giving athletes certain types of education-related benefits like postgraduate scholarships, laptops or musical instruments.
"I don't actually think this [Supreme Court ruling] is going to really affect HBCUs or other schools at what I would say is sort of the bottom of the pecking order in terms of their ability to attract future professional athletes to their college programs," Andy Schwarz, chief innovation officer of The Professional Collegiate League and an antitrust economist, told The Plug.
NCAA is Not the First
This is not the first time a college athletic association has let students profit from endorsements and sponsorships.
"When you look at what's happening with the NCAA, they're kind of behind," Kiki Baker Barnes, athletics director at Dillard University, told The Plug. "[The National Association of Intercollegiate Athletics] passed that legislation a year ago," she said.
Since October 2020, NAIA athletes have been allowed to profit from their name, image and likeness. But Baker Barnes, who is also commissioner of an all-HBCU NAIA member conference, says so far none of the HBCU students have gotten endorsements or sponsorships because of a similar issue Howard's president brought up to Congress — a lack of resources and exposure that a larger, more well-known institution can provide.
Though the NAIA started down this path nearly a year ago, allowing athletes NIL rights is brand new for many schools. "This is uncharted territory for everyone," Brian Holloway, an assistant athletics director for North Carolina A&T told The Plug. "We do realize, however, college athletics will never be the same."
‍