Exactly one year ago, Microsoft CEO Satya Nadella announced the commitments the company was making to address racial inequity, including goals to double the number of Black employees in senior positions by 2025 and strengthen their partnerships with Historically Black Colleges and Universities. On Monday, the company released their first progress update on some of these goals.
The report found that Microsoft is 64 percent of the way to their commitment to double Black and African American managers that are below director level and 35.7 percent of the way for those in director and above positions.
These numbers do not tell the full story of what Microsoft's diversity really looks like. While there may be growth, the company does not outline what share of their total senior employees are now Black and African American. Microsoft did not comment on what share of the overall workforce Black senior managers would be if their 2025 goal was reached.
Their 2020 Diversity and Inclusion report said that Black and African American employees comprised only 2.9 percent of managers, 2.6 percent of directors and 2.9 percent of partners and executives in the core business. Doubling these numbers in the next five years would still fall short of the 13 percent share of the US labor force Black people currently constitute.
Their 2021 Diversity and Inclusion report will be released in the fall.
Beyond racial representation within Microsoft, the company has outpaced other big tech companies through financial commitments. A recent report by Fast Company, in collaboration with The Plug, found that among 42 tech giants, Microsoft had committed the most money in the past year to diversity, equity and inclusion efforts, at $772.5 million, but the total amount of money invested was equivalent to just five days of profit. The company did not respond when asked if they planned on committing a greater share of their profit in the next year.
‍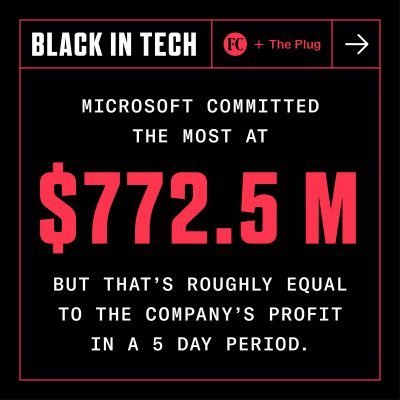 Unclear strategy with HBCUs
Continuing the focus on racial equity commitments, Microsoft set out to strengthen their support to HBCUs through computer and data science programs and curriculum development.
According to a report they released on June 9, in the last year they have expanded their relationships with HBCUs from just Howard University to include an additional six schools: Spelman College, Morehouse College, Clark Atlanta University, Florida A&M University, North Carolina A&T State University and Tuskegee University. However, the report does not specify how the company has served these additional six HBCUs and they did not provide details about how the schools were chosen nor what their support of them looks like.
In March, Microsoft gave $1 million to Howard Law School to fund work at the intersection between technology policy and racial equity. In their racial equity report, the company said they have given more than $5 million in unrestricted funds to 16 HBCUs over the last year, including the million-dollar gift to Howard Law.
In January, Philander Smith College announced they had received a $300,000, three-year unrestricted grant from Microsoft for a workforce development initiative. The college is part of a $15 million grant support over three years and technical assistance to 50 Black and African American-led and supporting nonprofits, including digital skilling and workforce development, according to the company.
This investment is separate from the $5 million investment the company made among 16 HBCUs. Alabama A&M University, Clark Atlanta University, Florida A&M University, Hampton University, Howard University, Morehouse College, Morehouse School of Medicine, Morgan State University, Norfolk State University, North Carolina A&T State University, Prairie View A&M University, Southern University and A&M College, Spelman College, Tuskegee University, University of the District of Columbia and University of Maryland Eastern Shore were listed as schools that received funding from the $5 million investment, but Microsoft did not disclose how much was allocated to each school.
Microsoft outlines an additional source of funding for HBCUs in its report, $1.6 million in matching funds employees at the company can apply for to match their investments among the HBCUs in Microsoft's portfolio. It is unknown if funds from the matching program have been distributed to the HBCUs, and if $1.6 million is the maximum amount Microsoft will match.
As protests raged last summer and companies raced to make statements and outline commitments, critics questioned how much of an impact corporations would really have. While Microsoft marks one year of progress on commitments to racial equity, questions around a strategic plan remain.
‍