As the United States marks one year since its first case of COVID-19 was diagnosed, parents, teachers, and administrators in the School District of Philadelphia — a district already plagued by racial and class inequities — reflect on a time of unprecedented lows and historic turning points, bookended by heartache and resilience.
It's been ten months since the district announced an $11 million plan to purchase up to 50,000 Chromebooks for students who lack access to technology. But despite efforts by administrators and support groups, students are still falling behind, underscoring the virus' exacerbation of an already stark digital divide.
For education experts, who see a direct correlation between the lack of technological access and digital literacy at the primary and secondary education level and the racial and gender disparities in Philadelphia's tech sector, increased funding is the only solution to bridge the divide.
‍
"The district is educating a large, significant number of students who not only come from homes where poverty is a huge issue and barrier for them, but also it has a significant number of students who are English language learners, or students that have a lot of special needs," Tomea Sippio-Smith, K12 Policy Director with advocacy group Public Citizens for Children and Youth (PCCY), said. "It deals with being underfunded, grossly underfunded, year after year after year. And when COVID-19 struck, all of those years of inadequate funding really showed its face."
Crunching the numbers
At the root of the district's educational inequity is how Pennsylvania funds public education.
Even before the pandemic, a PCCY education report titled "The Game Plan" found that Pennsylvania has the greatest gap in spending between high and low wealth districts in the country — a gap that will take an additional $4.6 billion to close, according to a recent analysis commissioned by education advocates suing to challenge the commonwealth's funding system.
The 2019 PCCY report also found that Pennsylvania ranked 46th in state contribution to education funding, dispensing just about 38% of public education costs. Individual school districts are forced to make up the difference with property taxes, resulting in districts with weaker tax bases having less money to allocate resources. The School District of Philadelphia, the education advocates' analysis found, is shortchanged approximately $5,600 per student — a deficit that in part explains a lack of technological resources.
When the pandemic upended all aspects of daily, in-person life in Philadelphia, catapulting its citizens into a digital age few could have ever anticipated, students, families, and teachers alike looked to the district and the city for guidance.
The transition to remote learning
Upon realizing that the pandemic would last beyond a few weeks, the district partnered with the city and other companies and coalitions to launch PHLConnectED, an initiative designed to connect eligible K-12 students with access to internet service, distribute Chromebooks and other devices, and provide digital skills training and tech support through June 2022.
Now, data from the district suggests it has reached a 1:1 student-chromebook ratio, with over 2,500 students having received MiFi devices from the district over the spring and summer. More than 7,200 families who signed up for 60 days of free Comcast Internet Essentials have had their internet bills paid for by PHLConnectED, and another 3,200 families have been connected directly through PHLConnectED to either Internet Essentials or MiFi devices.
Melanie Harris, Chief Information Officer for the School District of Philadelphia, said she is proud to have reached over 10,000 families through both T-Mobile hotspots and Internet Essentials, adding that the process of outreach is still ongoing to ensure each student gets the resources they need.
"I have said and many have said that education is the equal opportunity civil rights movement of our time, and I know that the pandemic has opened the eyes to many people of the great divide, especially in our inner cities, of access to high quality education," Harris said. "I think that this is going to allow us and cities around the country to work with state and federal legislators to say, 'how do we bring true equity and access to education for students?'"
Otis Hackney, Chief Education Officer with the City of Philadelphia also praised the initiative, adding that lack of digital access is not unique to Philadelphia, and officials have been in contact with other regions to see how they're handling the pandemic. Hackney highlighted that there is a distinction between rural areas in various states that don't possess the adequate infrastructure, and Philadelphia, which he said has the infrastructure, yet still encompasses some parts of the city that are not connected.
‍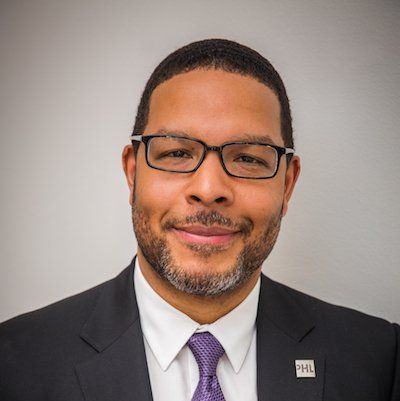 "We know that there's still more [people in need], and we have a request for proposals out to help us dig even deeper within different communities so we can figure out who's not connected but also why," Hackney said. "We need to make sure that we get as many families or individuals connected because it is a necessity. We want to get there, but we want to make sure that we're informed in our decisions on those policy positions."
The pandemic's impact on students, families, and teachers
Despite efforts on behalf of the district to ensure students and teachers were granted the technology they needed to succeed, families and teachers have reported struggles adapting to remote learning and a significant decline in their mental health.
Shakeda Gaines, President of the Philadelphia Home and School Council (PHSC), a parent-based organization dedicated to ensuring the safety and well being of students, parents, and teachers, said that she has been aware of the district's digital divide, but the pandemic shed light on the disparity.
"We found out that so many of our children did not have the proper tools that they needed. They didn't have computers, they didn't have internet, they didn't have space in their homes to do one-on-one with a teacher online," Gaines said. "We had children who were in foster care. We had children who were homeless. We had teachers, some of our paraprofessionals, who couldn't afford the internet and didn't have computers at home. We found out that there were a lot of teachers who were not even computer literate."
Gaines praised the district for eventually reaching a 1:1 ratio but emphasized the role education advocates and families played in achieving that goal, pointing to protests this past summer outside of Comcast for free internet access to Philadelphia children. She added that both long hours online and the absence of social interaction and school traditions have led to mental health issues among students.
"The perspective of schools has changed. They have not only watched themselves go through a pandemic, they watched some of their teachers be belittled in front of them," she said. "They watched teachers not care about them, they watched uprisings, they watched a president who was blatantly racist … [all] in one school semester."
Jerry Jordan, President of the Philadelphia Federation of Teachers, added that in the face of challenges, such as having to rework their lesson plans, the federation is advocating for more technology training for teachers and the reduction of screen time to protect the health of both students and teachers.
PHSC launched a petition in December 2020 calling on the district to support students' well being during the pandemic by altering the remote learning schedule, in an effort to help address the digital divide. The petition has garnered over 720 signatures as of Feb. 1, and Gaines plans to go door-to-door to get more signatures. Gaines is also calling for an elected school board, a transparent school district, more mental health resources for students, and for inequities to be addressed and resolved.
In response to the petition, the district's Chief of Academic Supports Officer Malika Savoy-Brooks wrote in a statement that the schedules in question incorporate "brain breaks" and dissuade students and staff from being online for extended periods of time, adding that feedback is encouraged to ensure the best learning model is achieved.
Despite the problems with remote learning Gaines has seen, she spoke against switching to in-person classes before the year ends, citing the already unsafe buildings due to environmental toxins and that students have finally found a rhythm that should not be disrupted for fear of further harming the students' mental and emotional well being.
"I think people need to understand what it looks like to break a child," Gaines said. "Our children are resilient, but you're still breaking them."
A digital revolution
Although Harris pointed to challenges that arose from the pandemic, such as overcoming language barriers of families and training teachers on how to use different types of technology, she said a silver lining is that it forced the district to be more technologically advanced.
Harris, who was previously not a proponent of the 1:1 student-chromebook ratio because she thought the computers would be misused, attributed the pandemic for changing her mindset and pushing the district about five years ahead when it comes to using learning management tools and doing online work.
Hackney similarly emphasized a positive outcome of the pandemic: a belief that students are finding the internet to be more than just a hub for entertainment, but a place where they can work remotely and even start an online business.
"That has been a huge, epic win in some ways," Hackney said. "While it may not be felt by all, I think in the long run it's going to be something that we will be able to measure and say that, because of [the pandemic], students were able to acquire 21st century skills and think about how they can learn and do things effectively remotely, because that's where the world was headed anyway."
Sippio-Smith shared a similar sentiment, noting that the pandemic and global protests for racial justice have forced advocates to look at race and ethnicity as the root cause of societal inequity. She also emphasized the relationship between access to technology in the school district and diversity in tech sector-jobs.
"I think it's all interconnected," she said. "Obviously the kid who has been exposed to [Chromebooks and other technology] for many years is going to be much more prepared to enter secondary education or college and declare that as a major, or understand the concepts of engineering or entrepreneurship, or any of those things better than the kid who has not had that level of exposure."
Sippio-Smith added that the most effective way to reduce the digital divide across the city would be to increase funding for public education, which she said would benefit the economy in the long term.
"We're in a different time in history where the state can do more for these students, and if it says that it wants an economy that functions, and that it wants people to be able to contribute to the workforce, to be a highly skilled workforce, to be a highly educated workforce, then the state has to invest in its students," she said. "And a great place to start is Philadelphia because the [greater] Philadelphia region contributes to about 40% of all of the income and revenue generated for the state."
This story is part of a partnership with WURD radio covering technology, business, and innovation in Philadelphia. This vital work is possible with support from the Philadelphia COVID-19 Community Information Fund, an effort by Independence Public Media Foundation (IPMF) and the Knight-Lenfest Local News Transformation Fund (Knight-Lenfest Fund).
‍