Key Insights:
This year's Comcast NBCUniversal LIFT Labs accelerator is focused on immersive technology startups.
Stephanie Reaves of Neon Wild is using the metaverse to diversify the children's media market with personalized avatars.
Lori Marion of Fade is creating an embedded commerce solution to bring shopping to television screens.
---
Twelve startups building immersive technologies have come to Philadelphia to shape the future of entertainment, gaming, virtual experiences and more, as participants in the Comcast NBCUniversal LIFT Labs accelerator powered by Techstars, where startups have a chance to secure proofs of concepts, pilots and commercial deals.
Two of these emerging companies are founded by Black women working to diversify and revolutionize the immersive tech ecosystem, which, broadly defined, is a technology that merges the physical world with digital or simulated reality.
Stephanie Reaves, co-founder and CPO of Neon Wild, a platform that transforms children into a custom avatar as the star of immersive stories and games, and Lori Marion, co-founder and CEO of Fade, a technology that allows viewers to make in-video purchases on streaming and publishing platforms, sat down in conversation with The Plug to discuss their entrepreneurial journeys at the B. PHL Innovation Fest in Philadelphia.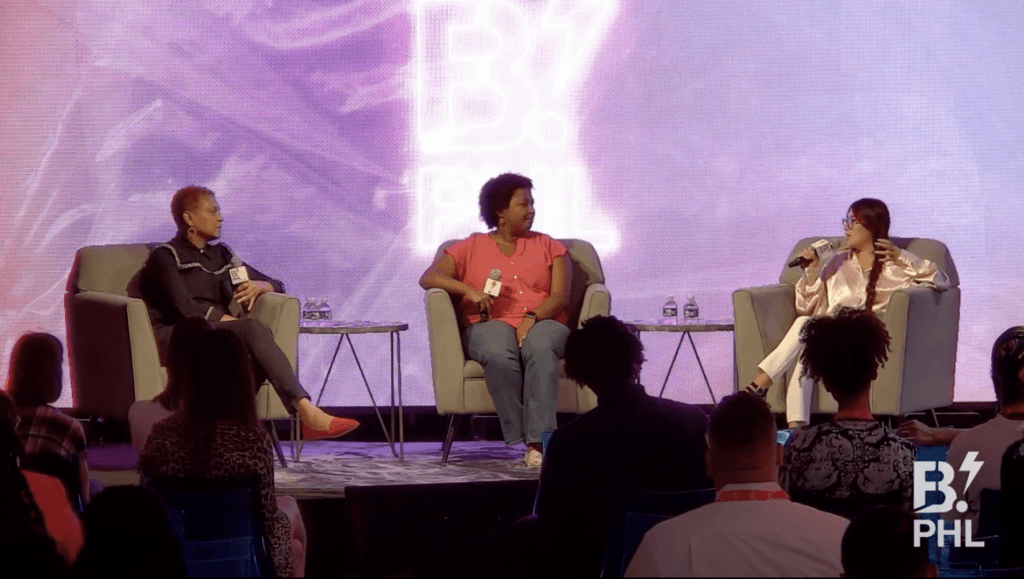 Fade
With Fade technology, viewers can purchase a product on their screens as seen in an ad, show or movie, right from the comfort of their homes.
"Imagine it is 2023. You are in for the night to watch Emily in Paris running down the Champs-Élysées with her CryptoPunks t-shirt and Gucci mini. You use your remote to press 'buy,'" Marion told The Plug.
Fade technology currently has a private beta and is conducting a UX study on the "10-feet living room experience."
Marion, who has had a 20+ year career in brand strategy and product management, said observing people in the natural environment where they will use your product is integral to building immersive technology.
"Consumer behaviors have changed, and platforms seek new methods to monetize content, not viewership. It is a shorter path to purchase," she explained.
Neon Wild
The impetus to develop Neon Wild was sparked during the height of the pandemic. Reaves and her three co-founders, who are a mix of parents and former educators, began researching how children are engaging during screen time.
When she was a child, Reaves' mother ordered her a Black Barbie for Christmas, but today in a digital-first world, representation during independent play looks different.
"Fast forward, I am looking at media and exploring what options are out there for my nieces and nephews and there really was a dearth in content that really represented who they are as individuals," Reaves told The Plug.
"Representation currently within children's media and probably, quite frankly, media as a whole isn't representative of our population," she said.
Through Neon Wild, parents upload a photo of their child which is transformed into a personalized avatar that maintains their features. Children are able to explore a virtual world while becoming the central character in an immersive storybook experience.
Neon Wild has a closed alpha release of its product on Sept. 27 and is currently looking for diverse families in the Philly area and beyond for user testing.
LIFTLabs Accelerator
Reaves and Marion traveled from New York and San Francisco, respectively, to Philadelphia in August for the accelerator. The program has in-person and virtual elements so products can be tested in-house in Philadelphia.
Beyond being investors in the companies that participate in the accelerator, Comcast is interested in developing an ongoing partnership with founders who could bring their products and businesses to Philadelphia's tech ecosystem, Isaiah Jenkins, senior manager of strategic development and startup engagement at Comcast, told The Plug.
The accelerator concludes on Nov. 2 with a demo day where founders will present their final products to investors. Both Neon Wild and Fade are looking to secure funding.
VC investment in the metaverse has skyrocketed in the last year, and consumer entertainment is at the forefront of the funding trend. Roughly 600 companies building immersive entertainment experiences or blockchain-based games have raised a total of $15.6 billion, according to PitchBook.
Neon Wild has crowdfunded and raised $500,000, while Fade has been bootstrapped. Both Marion and Reaves said the accelerator has fast-forwarded progress in shaping their business models. 
"I have an opportunity within 12 weeks to tear down our business and rebuild it and that's what I'm actually doing," Marion said.