Key Insights
In collaboration with Water & Music, The Plug caught up with the Black founders and fund managers that are changing the music and entertainment industry.
A selection of companies in U.S. and beyond stood out as industry game-changers for their business models that make equity and opportunity front and center.
Addressing market demand in newly formed venture and technology hubs could skew ownership to be far more equitable.
By Cherie Hu and Monica Melton
It is not unusual for Black artists to occupy the majority of the top spots on music charts in the U.S. and globally, but representation looks a bit different when it comes to music ownership and tech-enabled solutions. The Plug has partnered with Water & Music, a media company focused on unpacking innovations within the music industry, to gather data on Black founders in music tech around the country and the world.
An ever-expanding database of Black founders in the space is as far-flung as Zurich, Switzerland to Atlanta, Georgia, with organization sizes that vary from two employees to more than two hundred.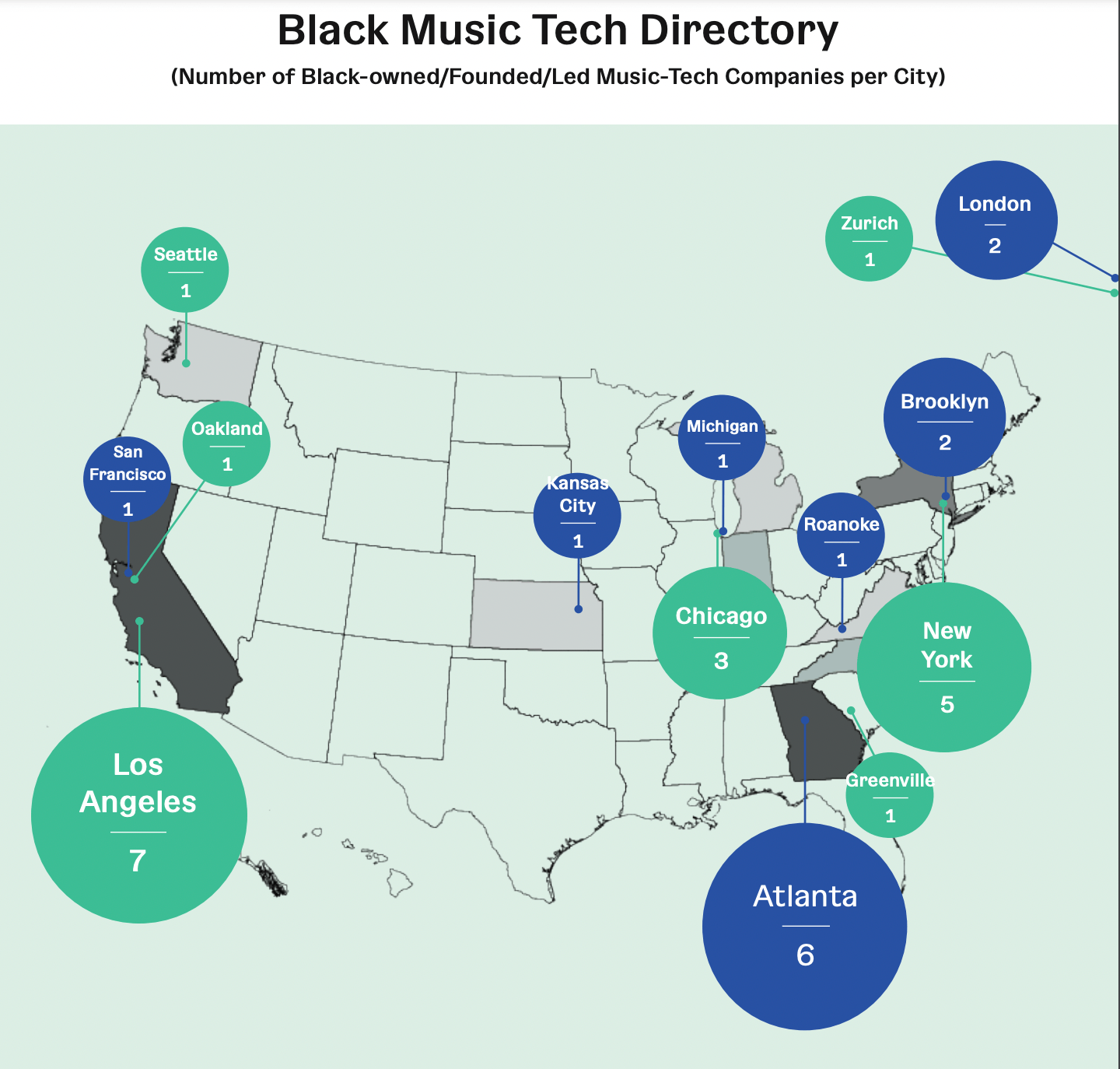 In the eastern U.S. key markets in New York and Atlanta emerged as hubs for Black founders building music, entertainment and production technology solutions. Sixty-six percent of companies in the database are located in or near these regions. Three founders representing each of these locations shared what the industry landscape is like in their respective cities and what the next frontier of a more equitable and inclusive music and media industry looks like into the future.
Atlanta: Jarret Hines
Hines moved to Atlanta from Washington, D.C. nearly a decade ago, putting himself at the center of music tech talent pools and a flourishing ecosystem of Black founders which catapulted his company Music Tech Works.
In 2018, Hines and cofounder Bryson Nobles launched the algorithm-based music rights and archiving platform as a way to make it easier to quickly find who owned the rights to songs being used and licensed for films, TV and other productions.
"Atlanta has a more collaborative than competitive culture to it where people are willing to help out. We're competing with legacy systems in the industry," Hines told The Plug.
Incumbent offerings for music rights and licensing data include organizations like the non-profit American Society of Composers, Authors and Publishers (ASCAP) and Broadcast Music, Inc. which has represented musicians and composers since 1939.
As a relative newcomer to the space, Hines said being located in Atlanta has helped.
"There's a very strong entrepreneurial vibe and culture here in Atlanta, in a sense of owning what you create and building a business off of it and with other people," Hines said.
One of the relationships that helped his team thrive is with the company's first investors, Collab Capital, a Black-led investment firm based in Atlanta, which pre-dates the fund's formation. Hines has a similar relationship to Atlanta-based Goodie Nation accelerator founder Joey Womack.
"There are a ton of things here to support Black businesses and support creators, that helps because it's just a part of the culture. The opportunity is just limitless," he said.
In a 2020 study by career mentorship and job posting company Zippia, found that Georgia ranked second as the most supportive state for Black-owned businesses (Maryland ranked first).
"There's plenty of ties to the broader [music tech] industry coming out of Atlanta. It's a virtuous cycle, so there are resources and people here that build and come back and instead of relocating to New York, L.A. or Silicon Valley, they continue to invest in the community here which makes it easier for the next generation of entrepreneurs coming behind them," Hines said.
This cycle attracts more capital and attention to the region as Black founders do more to foster ecosystem growth, Hines said.
In the past decade Georgia, specifically Atlanta, has grown to be a bonafide producing hub, due in part to the Georgia Film Tax Credit under the Georgia Entertainment Industry Investment Act (GEIIA), which gives a flat tax credit of 20 percent to certified projects based on a minimum investment of $500,000 in a single tax year for qualifying productions in the state.
Black founders in entertainment like Jon Gosier and his film financing firm FilmHedge have also benefited from this credit as film, TV, streaming content and music production increase throughout the state.
Along with a busy roster of production schedules, Hines said the company's growing song list licensing database has grown to include 160 million songs and their ownership data, covering approximately 99 percent of Apple Music and Spotify's catalogs in the U.S. and internationally.
The company is also part of the 2021 TechStars Music accelerator cohort and has venture backing from Warner Music Group Boost, a seed investment spinoff of the record label.
New York: Uzo Ometu
Outside of Hollywood and Atlanta, a company poised to disrupt TV and content production is gaining traction.
In March 2020, Uzo Ometu moved to New York and founded BlackOakTV, a subscription video platform dedicated to hyper-serving Black audiences, after spending several years in the Bay Area working for major tech giants like YouTube and Google. BlackOakTV launched exactly a year ago and has since been working on adding content and various upgrades that include programming of 25 titles, including 15 original shows that will debut by the end of this calendar year.
Ometu credits his education at Columbia University for his years long ties with New York's business. He believes that over the last five years or so New York and Atlanta have become noticeable destinations for a lot of Black engineers and tech workers who felt they had to go to the Bay Area first to establish credibility among the major tech giants. According to Ometu, there has been an influx of tech companies in New York, with Black tech workers now actively looking to work with and for people who look like them.
In the VC world, however, there is still very little diversity to be found.
For startups looking at funding, the Bay area is still where the majority of the money is. While there are increasingly more VCs that only want to invest in the New York market, Ometu said just focusing on local money can be limiting and probably not the best strategy, considering how much money is still flowing from the Bay area.
While Atlanta is attractive due to its lower cost of living, New York's appeal comes from an abundance of resources — money and investors — including some who seem to be actively working to build Black-owned businesses in the area. Of course, while many of the pitch meetings for seed funding have occurred via Zoom over the last 18 months of the pandemic, it is unclear whether that will continue into the future.
It's easier for the funds to hear more pitches in this environment, so for early-stage funding, this remote trend may continue. But there is a lost advantage of truly getting to know the people on the other side of the table, which for later stage series funding is important. Ometu said that while some people have done a good job of networking through the pandemic online through social media and virtual meeting spaces, being in New York and these other geographic business hubs like Atlanta and LA still makes things easier, even in pandemic times.
The other benefit to New York and the region are schools like NYU, Cornell Tech, CUNY schools and Columbia University, which provide a startup desk and other accelerator-like resources to their network.
While his connections and knowledge from his time working at Google and YouTube has been helpful to his success, accelerators have also been a big boost for Ometu and BlackOakTV. He was also part of TechStars Music Accelerator, which has committed to ensuring that going forward at least half its classes will be underrepresented- and women-run companies.
Ometu also spoke highly of the edge that Y Combinator gave him through the advice, foundational knowledge, support and introductions to VCs they offer. Ometu said he knows too many Black-owned startups who have quit the process after dozens of pitches, hearing "no one gets what we're saying."
For BlackOakTV, which caters directly to a Black audience, the pitch is even more sensitive to that mismatch of VCs and funders "getting it" in the pitch. Learning how to work through the process as a startup founder is certainly important, but so having diversity on the other side of the table who understands the product.
"Knowing the basics can be tough," Ometu said. "The more of those accelerators that diversify, give seed money and give time without taking too much equity, the better. Black founders need capital. Help people fundraise and make introductions. The ones that are focused on this are going to truly help."
Venture and Beyond
Black venture capitalists and fund managers are ensuring that the funding behind music and entertainment is diversified. Sherrese Clarke Soares, founder and CEO of recently launched HarbourView Equity Partners, is looking to invest in music copyrights and media assets. Clarke Soares said she will focus her attention on sectors that have been overlooked and undervalued.
"We want to invest differently, not colored by preconceived notions," Clarke Soares told The New York Times. "Just because something is in the R&B sector, or in the Latin sector, we don't believe that it should have a discount."
Apollo Global Management's credit subsidiary backed Clarke Soares' firm up to $1 billion. Deal flow in the music rights industry has soared into the billions as firms facilitate the rights to artists' catalogs.
For artists that are still establishing their catalog, Steve Stoute's New York-based United Masters is focusing on giving artists more control to monetize and manage their royalties.
"The core of the United Masters platform is all about enabling frictionless music distribution with terms that allow artists to retain full ownership of their music, everything we do is built on top of that premise," Jon Weidman, United Masters' Vice President of Content Strategy, told The Plug.
"In an industry where there's a lot of opacity around contracts and compensation we're trying to create a platform that allows for transparency, collaboration and equity, Weidman said."
Leveling the playing field to the South's advantage is one aspect of Jon Gosier's Southbox Venture, the newly restructured $40-million firm, that will further solidify Atlanta as a formidable production and venture capital hub.
"We are investing in and putting ourselves in downtown Atlanta, which is still a neglected but growing part of the city," RJ Joshi, Southbox Capital Managing Partner, told The Plug. "We want to make an impact in a concentric circle to the city, the region, hence the name Southbox – "south" representing where we are based and "box" representing an analogy of this collective portfolio. We want to box up the best and highest quality portfolio for our investors to eventually unbox."
‍
See the full database here.
‍