KEY INSIGHTS:
Philadelphia-based REC Philly is expanding its creative incubator space to Miami with a recent $2 million investment from Diddy.
Tiny Room for Elephants works with a range of artists in Philadelphia to match them with brands and agencies looking for creatives.
69&Sunny is a hybrid agency and artist collective that has been working with cannabis brands to amplify local artists.
---
Black founders are leading spaces in Philadelphia's creative scene and it has not gone unnoticed: REC Philly, which describes itself as a part creative incubator and part creative agency recently secured a $2 million investment from rapper Sean "Diddy" Combs to open another hub in Miami early next year.
In the last few years a handful of agencies, artists' collectives, working spaces, as well a combination of these concepts have popped up in Philadelphia to support the city's creatives.
Business and life partners YaYa Horne and Damion Ward started Tiny Room for Elephants in an underground warehouse recording artists at work as a way to "document the culture." Now, they operate as a network of creatives that fuse art and music to create unique experiences for artists, brands and consumers, inviting the public to watch the art process as it happens.
"You go to an art show at a gallery and you walk in and the paintings are hung neatly on the wall, there's wine and cheese, but you don't know the backstory of how many mistakes these artists made or how many iterations of that painting it took to get to this one masterpiece," co-founder Damion Ward told The Plug.
This summer, Tiny Room for Elephants hosted its largest festival at the Cherry Street Pier, where over 45 artists created large-scale works of art over the course of three weeks. It was their first event fully funded with sponsorship from Visit Philly's Love + Grit Podcast, Tito's Handmade Vodka and other brands.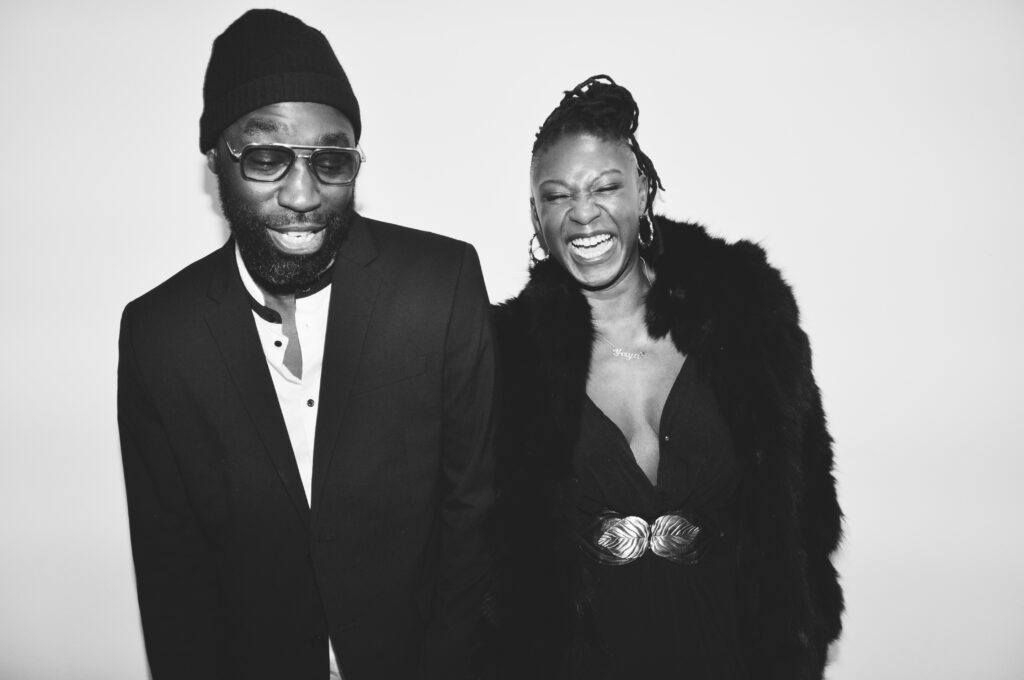 While Tiny Room for Elephants is also an agency, they do not represent artists. Instead, the company operates as matchmakers, co-founder YaYa Horne told The Plug. She has a background in brand management and previously worked for Red Bull, while her partner Ward is a music producer by trade.
Tiny Room pairs brands and organizations with creatives who are best suited for creative projects or experiential events. Beyond visual artists, Tiny Room has performance artists, culinary artists, musicians and other creatives in its network.
"We're kind of like that middleman but always on the artist's side," Horne said.
Calan Malyn, the founder of entertainment company 69&Sunny, which amplifies contemporary artists, writers and thinkers, started the company in 2018 in Philadelphia. Founded under a different name, the company was originally a cannabis education platform after Malyn began researching cannabis as a medical remedy following her mother's stroke. Now, the company has transformed into a blend of an agency and an artist collective bringing Malyn's background as an artist to the fold.
"We try to bring together different businesses and artists and we just try to support community fun in a very small intimate way," Malyn told The Plug. "I say 69&Sunny is life, liberty and the pursuit of fun," a nod to Philadelphia's history as the place where the Declaration of Independence was signed.
In the last year, one of their initiatives was facilitating an artist residency where three artists worked in an Airbnb with the space to simply create.
69&Sunny is primarily bootstrapped and is an alum of Philly Startup Leaders' idea-stage accelerator program. The startup's profit model is pivoting to advertising, specifically cannabis brands like local business Ganja Brews, a Black woman-owned company that infuses THC in juices.
In partnership with Philly music artist Yourmomlikesmymusic, 69&Sunny created an anthem empowering women who use cannabis. The music video, which features 85 women who submitted videos of themselves, recently won a CLIO Cannabis award.
"I feel like this business is my greatest art piece," Malyn said.
Similar to the concept at REC Philly, Tahron Bryant opened Kreate Hub, a workspace for emerging artists, makers, technologists and entrepreneurs, in Philly in 2020. It has become a hub for Black creatives in the city and also has locations in the South Bronx and Nashville.
Black founders are making a mark in Philadelphia's creative community by creating more visibility, space and opportunity.
"There's something about being the elephant in the room that I feel all creatives experience — that 'I'm different, I don't think like everybody else,'" Horne of Tiny Rooms for Elephants said. "What if that elephant didn't have to be this big, ostentatious thing in the room? But what if there was a room that was built just for them."