Black businesses in Black communities aren't benefiting financially from positive online reviews compared to their white counterparts. A new study from the Brookings Institution revealed that even the highest-rated Black businesses on Yelp located in Black neighborhoods earn less in revenue compared to poorly-rated non-minority-owned businesses in white communities.
‍
For every one-star increase in Yelp reviews, businesses, the study concludes, experience an increase in revenue growth of 1 to 2 percentage points over three years. For every 10 reviews a business receives, an additional 2 percentage points in revenue growth occurs despite whether the review is positive or negative. However, this data does not ring true for minority-owned businesses where spending is significantly less in neighborhoods with similar racial composition.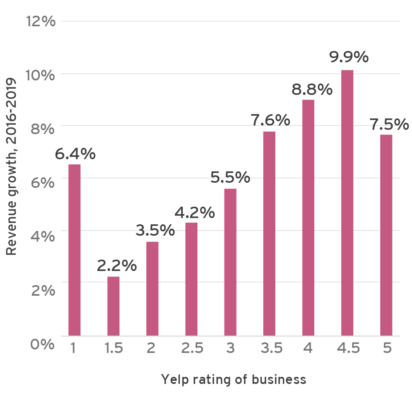 The findings aren't surprising. Negative perceptions about Black neighborhoods pair with disinvestment in physical infrastructure. Researchers also found that lower online evaluations of Black businesses continue to hurt the potential for long-term wealth creation that would provide Black communities, entrepreneurs, and residents an opportunity for agency within their own communities. While new and less discriminatory policies in commercial lending to Black businesses, and facade improvements are at the top of the recommendations provided in the report, there's very little integration in the recommendations around how the switch over to a digital world has negatively affected Black businesses and their ability to survive for the long-haul.
‍
Digital Gentrification
As commerce has transitioned mostly from brick-and-mortar stores and shops to digital storefronts and app-fueled services, businesses on levels have felt the pull to evolve or dissolve in the inconveniently convenient Amazon economy. For Black-owned businesses in Black communities, gentrification, paired with an ever-evolving digital demand requirement, presents its unique challenges and barriers. Being able to stand out online takes both technical know-how and cash to chart to the top of the lists of sites like Yelp, Google, Facebook, and Tripadvisor. In these online spaces, users are heavily influenced by online reviews, photos, and features like being able to place an order online or make reservations.
Algorithms are king. They determine what is seen, how often, and to what degree. Black business owners, even in their own communities, without the cash or the time to wade the complexities of digital tools, face lost revenue when these tools go underutilized. In her book, Algorithms of Oppression: How Search Engines Reinforce Racism, Dr. Sofiya Umoja Noble, talks to Kandis, an African American salon owner of thirty years about how the internet changed her business, particularly with new online communities like Yelp.
In an excerpt, Kandis responded: I quickly realized the internet/Yelp told people that I don't exist. I think algorithms don't take into consideration communities of color and their culture of trusting in the web with our personal information. And just because I don't have reviews doesn't mean that I have no value. […] Now it becomes another financial burden to stay relevant in eyes of what the web is telling people about who is valuable. […] They (Yelp) tell you that everything is free like they are doing community service, but later on, it basically pays to play. They call on a regular basis to get you to spend a few hundred dollars a month to advertise with them, and if you don't, they're going to push you further down their pile.
Kandis goes on to talk about how even after searching for keywords like African American, Black, relaxer, or natural, white businesses and hair salons would still come up before her along with people who have not been in business as long as her. Black neighbors in neighborhoods know the business is a staple. Still, access to new customers also means telling that business story to appeal to a generation of Instagram users who will tag the location and post a photo of their meal and make their recommendations known online. Kandis asserts that getting Black people to "check-in" and review their local businesses is a challenge, as Black people already feel hunted and are less inclined to let people know where they are.
‍
Policy Tools for the New Age
In recent years, companies like Google, Square Space, Wix, and Facebook have embarked on community-based initiatives like Google for Startups and Facebook Blueprint to help teach communities how to utilize their tools to reach potential customers and clients better. An opportunity could exist to deploy more considerable resources to minority communities via federal programs like the Small Business Administration or Minority Business Development Agencies that could scale beyond solely providing financial support for facade improvements and commercial lending.
It's clear that business quality is not what is holding back profit growth, said Dr. Andre Perry, the senior Brookings fellow who led the Yelp study. Perry is also the author of the forthcoming book Know Your Price: Valuing Black Lives and Property in America's Black Cities. Distorted views and old stereotypes are dragged on local economies that hurt everyone, especially those living and operating businesses in Black-majority neighborhoods.