As COVID-19 rips through the United States, the impact the pandemic has had on communities across the country has garnered a lot of national attention. Many of the issues that are now being spotlighted — income inequality, lack of access to the internet, food insecurity — have been things that activists and community advocates have sounded the alarm on for years, hoping for funding or their local government to step in and take action. Now that we're in the thick of one of the worst economic fallouts in history, some local leaders are taking action on their own to address problems that have been festering for years, but have been accelerated by coronavirus.
The formulation of the Bronx Community Relief Effort (BxCRE) started well before the COVID-19 pandemic hit. Led by founding co-chairs Derrick Lewis and Judy Dimon, the BxCRE sprung from the idea to launch a community foundation in the Bronx to fulfill financial needs and other assistance that some leaders and philanthropists in the region felt were not being met otherwise.
"We started to think about what could be done to sort of solve some of these systemic and institutional challenges" said Lewis, who was born and raised in the Morris Heights neighborhood in the South Bronx. "We noticed that organizations again, although doing great work in the Bronx, were not collaborating."
Once it was clear that the country would be in the throes of the pandemic for the long haul, Lewis and Dimon knew they had to pivot to get relief to Bronx residents sooner rather than later. The Bronx isn't only the poorest borough in New York, it's also home to the poorest district in the country, with 27.3% of its residents living below the poverty line.
"We said we can't wait to build this institution, the Bronx needs help now," Lewis said.
In April, the Bronx had more coronavirus infections per capita than any other borough, according to reporting from The Washington Post and data from the New York Health Department. To make matters worse, small businesses in the Bronx haven't been getting the same support as other communities. A report from the city's Comptroller Scott Stringer showed that just 40% of eligible businesses in the Bronx received PPP loans, compared to over 50% for Brooklyn, Staten Island and Manhattan, and 48% for Queens.
"The core to the Bronx economy is small business," Lewis shared. "When small businesses weren't able to operate, the Bronx economy almost essentially halted. But, I say all that to say that all of these statistics were in place before COVID-19."
‍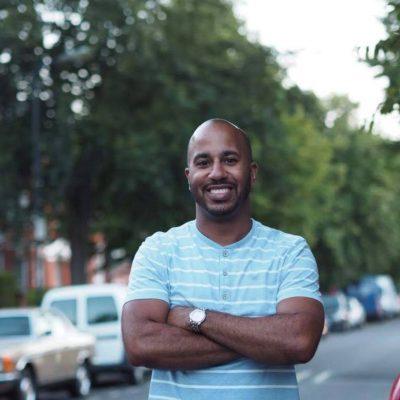 The statistics get worse when it comes to internet access. In 2018, nearly one in six households across New York reported that they have no access to the internet, while one in five households solely get on the web via cellphone devices. The lack of internet access is most prevalent in communities experiencing poverty, including the University Heights, Pelham Parkway and Williamsbridge neighborhoods in the Bronx. Nationally, one-in-four teens living in households with an annual income less than $30,000 lack access to a computer, with Hispanic and Black teens affected most by this. Approximately 17% of teenagers ages 13 to 17 in the U.S. said that they have a hard time finishing homework at home because of a lack of reliable access to the internet and computers, according to a study conducted by the Pew Research Center.
The Bronx has one of the highest percentages of what Lewis calls "a digital desert." When the pandemic hit, the New York City Department of Education (DOE) closed schools while libraries and internet cafés also temporarily shuttered, leaving students with less access to internet in the Bronx. The BxCRE estimates that nearly 200,000 young students went home without access to high-speed internet or technology to get online.
"Obtaining the technology–laptops, desktops, tablets, etc.–and access to high-speed internet are the biggest technology-related problems," Lewis said.
The BxCRE had an initial goal to raise $10 million through donations to pour back into the Bronx community, but since its official launch on April 13, it has raised and deployed over $14 million. This funding has been dispersed in many ways including through micro grants to small businesses, nonprofits and individuals and donating nearly 15,000 Chromebooks and wifi devices to schools in the Bronx. The organization hasn't disclosed any other sources of funding outside of individual donations.
The Bronx International High School, which mainly teaches newly arrived immigrants who are English language learners, was able to get some early support from the BxCRE. When the pandemic started, the DOE planned to give each student in New York City an iPad to continue learning from home, but the request to get these devices wasn't as simple as it should have been.
"It's a huge undertaking so I can only imagine how long it took, but again, when you're talking about English language learners or kids who are already at a disadvantage, you're just widening the gap," Damaris Mercado, the work-based learning coordinator at the Bronx International High School, said about the ipad request process.
To get them more college-ready, the high school also pushes its students to participate in technology programs in and outside the classroom, which calls for the use of more technology they simply don't have access to right now. One of those opportunities is a coding program in partnership with rapper French Montana and the Knowledge House, which went virtual due to the pandemic.
‍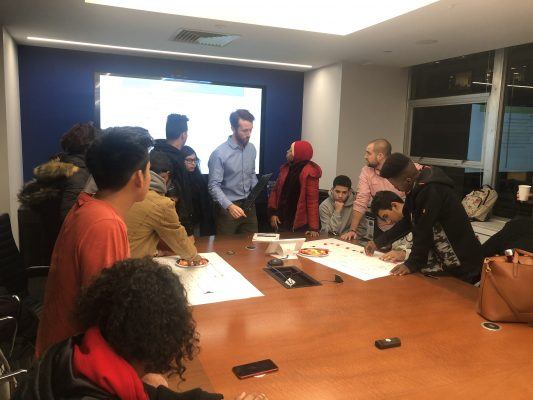 "When they come in, it's very rare that our students know technology, so they have a quick learning curve," Mercado shared. "Now we have these kids in coding programs or architectural programs and those iPads that the DOE were giving out, don't allow kids to code or doesn't allow them to use certain programs."
Mercado said the high school was lucky that a lot of its technology-focused programs went remote, but a large portion of the school's nearly 400-student base still don't have access to the internet at home or are homeless living in shelters. After Mercado found out two young coders from the high school were sharing one cell phone to learn with, she reached out to the BxCRE for support. As the organization was getting the effort off the ground, she said some of the founding coalition even lent out their technology devices and shared wifi access with students as they worked through the early effects of distant learning. The school was able to get a donation of 50 internet hotspots and 25 laptops from the organization to disperse to its students.
Though students have access to iPads, Mercado said many were still struggling to do simple assignments like type essays and fill out college applications because there's no keyboard on those devices. Students who live in shelters were given priority access to a laptop or hotspot because "they felt the most left out because they were already at a disadvantage," Mercado shared, followed by students in those after school technology programs.
Alongside these efforts, the BxCRE is also working on ways to continue to address the lack of broadband access in the Bronx by creating a borough-wide mesh wifi network strategy. The organization is also providing 500 virtual internships to high schoolers and some college students in the Bronx in partnership with Here to Here and DreamYard. Students will work across various sectors from healthcare and technology with Bronx-based small businesses. About 15 students from the Bronx International High School are participating in the BxCRE's virtual internship program.
"What we've done through the relief effort is that we've proven that we can actually execute this in a successful, rapid manner, and the thinking is to take that model and implement it into the foundation to continue to work to provide support to the Bronx," Lewis said.
Correction: In an earlier version of this story, we said that the BxCRE estimated that 2,000 kids went home without internet during the pandemic. The BxCRE estimates that number at 200,000 students.
This story is possible thanks to support from the Ewing Marion Kauffman Foundation, a private, nonpartisan foundation that works together with communities in education and entrepreneurship to increase opportunities that allow all people to learn, to take risks, and to own their success. For more information, visit www.kauffman.org and connect at www.twitter.com/kauffmanfdn and www.facebook.com/kauffmanfdn.
‍