Over the past several decades, Austin has made a name for itself among the country's top tech hubs. Major companies like Apple, Google, and Facebook have offices or headquarters in the city, Dell was founded there in 1984, and tech talent has flocked to "Silicon Hills" because of its high paying jobs and affordability. The startup scene there has boomed as well. According to the Austin Chamber of Commerce, in 2018, startups in the city accounted for a larger percent of businesses than almost any other major metro area.
Austin's tech ecosystem however, isn't diverse and community leaders have been working to make things more equitable. But as the pandemic has impacted businesses in central Texas and across the country — several well funded startups in Austin have cut their staffs this year — how are ecosystem leaders approaching this work, and what do they see as the path forward?
Preston L. James is the Co-founder and CEO of DivInc, an organization that focuses on bridging the gap between minority entrepreneurs and the resources they need to take their ideas to the next level. He says throughout the pandemic, tech community leaders in Austin have been making business pivots, going virtual with programming, collaborating more with each other, and becoming more innovative and resourceful to optimize efficiency. DivInc has had to shift from in person interaction as well, which James says has allowed them to extend their network beyond Austin to connect entrepreneurs to more pre-seed and seed stage venture capital firms that they wouldn't cross paths with otherwise.
James said Austin's startup community in general, like many other places, is predominately white and he believes it will be at its best when it becomes more diverse, equitable and inclusive.
"Here in Austin, over the last six years that I've been part of the ecosystem, there has been and continues to be a push to be more inclusive of different races and genders. I think we are creating ecosystems of support within the main ecosystem so that we are getting equitable opportunities to resources and opportunities to reach our fullest potential as innovative and successful entrepreneurs," he said.
James said that in order for minority led startups in the city to thrive during and after the pandemic, a couple of things need to happen. First, he says, more leaders need to step up to the plate and be a catalyst for the kind of transformative change necessary to make the city's ecosystem more equitable. The second thing he mentioned is a problem almost as old as the city's startup community itself: the lack of access to venture capital for minority founders.
"Across the U.S., but especially in Texas and Austin, without more access to capital at the friends and family, pre-seed and seed stage being accessed by underrepresented founders, we won't move the needle at all," he said. "That will be the failure of our innovation ecosystem if we can't effectively address this asap."
In 2019, Austin brought in over $1.8 billion in venture capital and over $130 billion was deployed nationwide. In the next year, James is hoping to see more Black and brown founders get the financial support that they need. He thinks that next year the city will see more Series A funding deals for minority-led businesses. In the U.S., Black founders receive less than 1 percent of all venture capital.
"The industries and the growth that is happening in Austin is going to draw more underrepresented entrepreneurs here," he said. "We'll see more funds focused on Black, brown, and women founders. We'll see more VC's being intentional in their efforts to invest in latter stage founders."
Austin resident Milly Fotso launched North — a company that leverages machine learning to empower users to build, share, and discover better automated workflows — with two other co-founders in April, right around the time the pandemic hit. Originally from Cameroon, Fotso participated in DivInc's accelerator program in the fall of 2019 when she was working on her first startup. She ultimately quit her full-time job at Facebook to focus her energy on entrepreneurship.
‍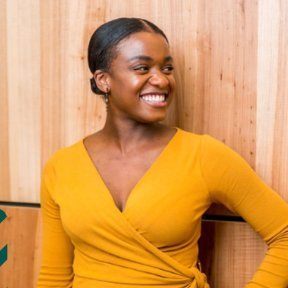 Surprisingly, Fotso said that building a company during the pandemic has presented fewer hurdles than during "normal" times. But much like James, Fotso said Austin still needs to work on providing founders with early-stage support and capital.
"Because the tech scene is relatively new, compared to markets like Silicon Valley or even Silicon Beach, Silicon Hills investors are much less risk-averse," she said. "Austin still has something to prove as a tech hub, so the asks of early-stage founders are probably similar to what they were in Silicon Valley 20 years ago: more significant amount of traction, much lower valuations, fewer pre-seed and seed funds, etc."
Fotso said the pandemic has shown her that the way entrepreneurs had been working in the past was archaic in a lot of ways, and presented many opportunities for startups to challenge the status quo. When deciding to still launch North, the company's founders considered the fact that a lot more people would be working remotely and require better work-life balance.
"Ultimately, making the decision to launch a product that addressed these problems right now was the easy part," she said. "We believe that challenging times often act as catalysts for change, as they exacerbate existing problems with the way that we live and work, and they put a spotlight on the most broken systems — really forcing us to think about how we can be better."
This year has brought some of the biggest challenges startup founders will ever face, but for James it's fuel to keep pushing forward with work that's he sees as vital to the city and what it will look like moving forward
"If anything we're all pushing even harder. We're used to obstacles. Everyone who can is leaning in," said James. "Yes, many of our Black and brown businesses are suffering right now, but we must continue to lift as we climb."
This story is possible thanks to support from the Ewing Marion Kauffman Foundation, a private, nonpartisan foundation that works together with communities in education and entrepreneurship to increase opportunities that allow all people to learn, to take risks, and to own their success. For more information, visit www.kauffman.org and connect at www.twitter.com/kauffmanfdn and www.facebook.com/kauffmanfdn.
‍