College friends and frequent collaborators Scooter Taylor and Tre'von Hill were practicing social distancing on opposite coasts in response to the COVID-19 pandemic when they both decided to attend a digital conference. The event used Hopin, a platform designed for interactive online events, and immediately got the men thinking of ways they could create a digital conference of their own.
‍
"We could create one this week for Black creatives," Taylor text Hill. "Holy Hell."
‍
The men had their first text conversation about the event on a Tuesday. Within days, they created and launched Quarantine Con. By Sunday, March 22, the day of the event, more than 4,500 people were registered.
‍
When popular conferences such as SXSW were cancelled amid the ongoing COVID-19 pandemic, hundreds of thousands of attendees were left searching for new networking and professional development opportunities. As businesses increasingly transitioned to a work-from-home model and it became clear that social distancing measures would be in effect for the foreseeable future, there was a growing need for events that spanned beyond the standard virtual webinar and Zoom-based happy hours. Taylor, Hill and other entrepreneurs launched digital conferences that would fill this void, specifically for communities generally underrepresented in the tech industry.
‍
Bria Sullivan, a software engineer at Google, founded Tech Stack'd before the pandemic in hopes of helping technical talent and startup founders from underrepresented communities find each other. Sullivan says the company has helped members acquire a combined compensation of $6 million since it was founded more than a year ago. About 3,500 people have signed up to receive newsletters and other content from the organization.
‍
In its first year, Tech Stack'd hosted virtual events on pitching, IP and booking speaking engagements. Sullivan says hosting webinars used to give people something to look forward to outside of the office, but once the pandemic started, the general public quickly grew fatigued by the traditional Zoom events. "We're trying to come up with new ways to make it a little bit more asynchronous," she says. For future events, Sullivan is considering posting a recording and allowing members to engage with the content for a period of time.
‍
Earlier this month, Tech Stack'd hosted an Ask Me Anything on Slack with two Google recruiters. About 500 people are members of the organization's Slack group. Sullivan says the "text-based event" allowed people to participate without being glued to their phones the entire time. "We got [about] 37 questions answered in a 60 minute time period," she says. "People are able to drop their question in, put their phone down and wait. They get a push notification when someone responds to their message."
‍
Justin Samuels was planning to host Render(ATL), an in-person conference that positions itself at the intersection of culture and tech but, like most of the events that were scheduled for this time, it was cancelled because of the pandemic. He got the idea to launch In Streaming Color after attending a few digital conferences and noticing the lack of diversity among speakers. "When I looked at the lineup there was only like 2-3 people of color," he says. In Streaming Color took place on May 13 and featured more than 40 panelists, many of whom were Black, speaking on topics involving tech and design, business and entrepreneurship, and more.
‍
"We added a spin on it by including charities because a whole lot of my friends do a charitable organization," he adds. "Season 1" of In Streaming Color, a fun nod to the conference's name being inspired by the popular television show "In Living Color," focused on charitable organizations geared towards helping people of color. For "season 2" or the second conference, Samuels says he's hoping to highlight charities that support immigrant communities.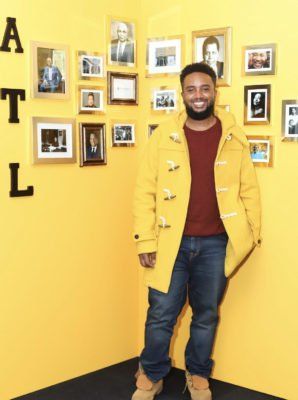 Samuel recently launched another online initiative, Rebuildblackbusiness.com, in support of businesses impacted by recent looting during protests against police brutality following the deaths of George Floyd, Ahmaud Arbery and Breonna Taylor. The fate of this year's in-person Render(ATL) conference is uncertain, though. Samuel says he's unsure if it will be able to take place as planned this August (the in-person conference was originally scheduled for May). Regardless, he's hoping to host a digital conference once per quarter. The first event held by In Streaming Color, which also featured a job fair, was attended by about 8,500 people via Twitch, Facebook, Periscope and Instagram.
Since the success of the original Quarantine Con conference, Scooter Taylor and Tre'von Hill have hosted a virtual gym, a culinary showcase, as well as events on topics such as wealth building and mental health. And, while they say their events are open to everyone, they hope to normalize highlighting Black experts at conferences. In May, they partnered with Collab Capital to host a pitch competition that awarded a total of $50,000 to Black founders who showed "resilience and innovation" during the COVID-19 pandemic.
Both men, who also produce events for companies such as XoNecole, say they've learned that the power of Quarantine Con goes far beyond the events it hosts. "Independent of us, the attendees made an Excel or Google Sheet where they were able to put their name, LinkedIn, city [and] where they worked. Close to 400 people have filled that out," Taylor says. "That was another clue to us that people are looking for this. They want to network. They want to connect."
The Quarantine Con founders said they were drawn to Hopin by the platform's networking capabilities. "That's been most effective and transformative for our community," Hills says, noting the feature connects users to video chat in a randomized method similar to speed dating.
"That graphic designer needs to know that person who's starting the brand. The artist needs to know that producer. The PR girl needs to know the kid who's running that startup," Taylor adds.
Hill agrees. "We planned a conference but we built a community."
This story is possible thanks to support from the Ewing Marion Kauffman Foundation, a private, nonpartisan foundation that works together with communities in education and entrepreneurship to increase opportunities that allow all people to learn, to take risks, and to own their success. For more information, visit www.kauffman.org and connect at www.twitter.com/kauffmanfdn and www.facebook.com/kauffmanfdn.
‍