While Black women are leading America's startup ecosystem as the fastest-growing demographic of entrepreneurs, the venture capital industry continues to be white male-dominated, failing to reflect that representation within its investor ranks, leading a small but growing number of Black Women in venture capital to level the playing field with a commitment to place diversity at the forefront of their investing decisions.
A Women in VC's 2020 report found that only 0.2 percent of the partners who lead U.S. venture firms and control $130 billion invested per year are Black women, failing to benefit from the perspective of Black women in leadership, who regularly challenge institutional investors to change the way they view groups left out of VC, not as minorities, but undervalued and underestimated communities.
That's the mantra of Backstage Capital founder Arlan Hamilton, who just raised $5 million in equity crowdfunding to support her company's future investments into women, POC, and LGBTQ founders.Like any great founder & team we back, we at @Backstage_Cap know that this raise is not the destination, but simply fuel to get there, Hamilton said in a March tweet announcing the fundraising.
We haven't skipped a beat with our portfolio support or deal flow management. The work continues' Impact America Fund, founder Kesha Cash and her team invest in early-stage tech-driven businesses with a mission to give people of color true agency and participation in the American economy. 1863 Ventures, founded by Melissa Bradley, trains and funds businesses that have generated more than $300 million, giving New Majority founders leverage in the country's most innovative sectors like tech, media, and retail. An analysis of 14 Black women VCs by The Plug found the median investment amount is $3.3 million, with amounts ranging from $20,000 to $12.5 million.
‍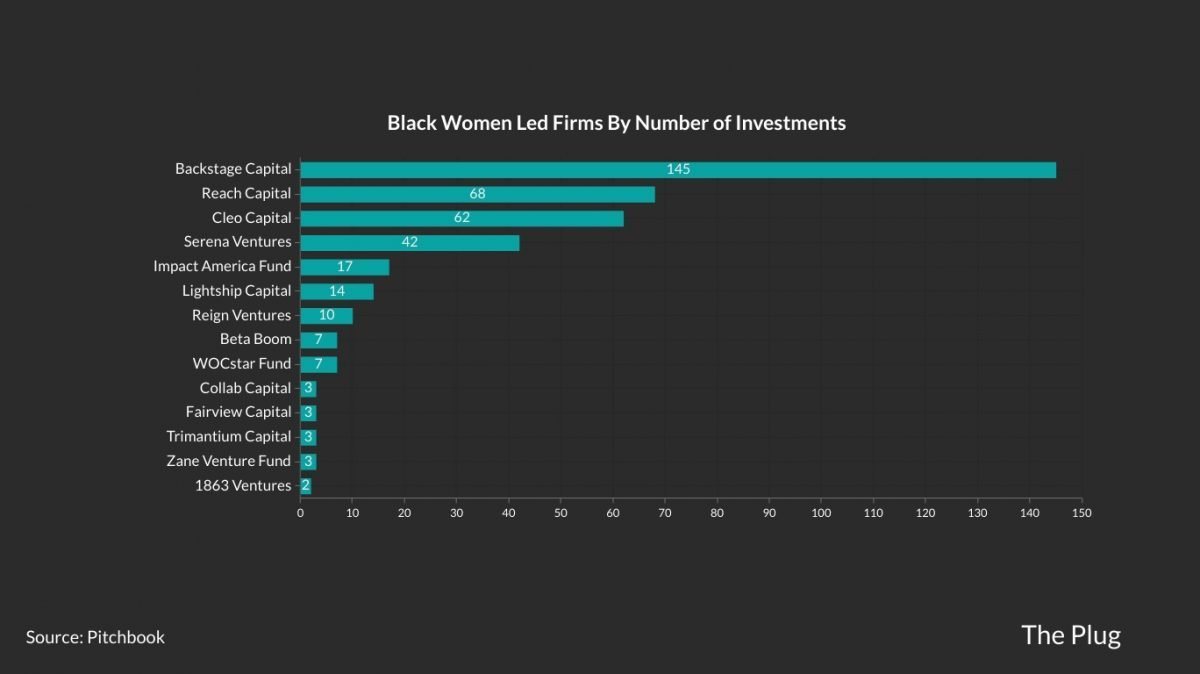 The nationwide protests against police violence in the summer of 2020 and the resurgence of the Black Lives Matter movement forced VC firms to reckon with their own patterns of racial and gender inequity. It shouldn't take for someone to be murdered for one to reckon with white supremacy and the systems that have oppressed so many in this country for so long, Chelsea Roberts, COO of HBCUvc, told The Plug. Sustainable change and disruption take ongoing commitment. It's not a one-time thing. Before becoming COO earlier this year, Roberts worked as head of partnerships for HBCUvs for nearly two years.
Now, she works closely with her firm's educational programs that train Black and brown students to become the next generation of leaders in venture capital. Roberts also has a background in venture philanthropy and healthcare, eventually transitioning into venture capital as a member of HBCUvc's first PledgeLA VC Internship cohort, where she became passionate about breaking down the barriers to entry for future investors and partners of color. This year, the one-year fellowship program for HBCU students and alumni will be held virtually, allowing HBCUvc to double its cohort to 40 members.
Only 4.9 percent of all venture capital partners in the U.S. are female, according to a 2020 report from Women in VC, the largest global community for female investors. Black women represent only 0.2 percent of all VC partners in the U.S., a reflection of the failure of initiatives that seek to prioritize diversity and inclusion within VC firms'Äî steps that pledged to create space for more Black women and other people of color to become investors with long-term success in the industry. You can't make room for something if you don't have it, Sarah Kunst, managing director of Cleo Capital, told The Plug. I think the biggest barrier in venture and in the world for Black women is access to investments, access to capital, and getting to be a decision-maker. Kunst represents the growing number of Black female investors who are choosing to build their own firms rather than wait for opportunities to come around.
In 2018, she founded Cleo Capital and raised $3.5 million, the second-largest debut fund by a Black woman venture capitalist in the U.S. Cleo Capital now backs 32 companies from a diverse range of sectors, from social media and micro-real estate to baby food. Historically, the best venture funds have somewhat of a generalist approach. If you're a little too focused on one sector or one profile of a founder, you can end up missing some really exciting deals in front of you, Kunst said. Another key element of Cleo Capital's strategy is having mostly women on its team of scouts, defying the status quo in venture capital where 65 percent of firms have zero female partners and 81 percent have no Black investors, according to Harvard Business Review.
In 2020, a Goldman Sachs report revealed that all-women and mixed-gender funds outperformed all-male funds, asserting that investment communities have a long way to go before mending the disconnect between the earning potential of women-led startups and the meager funding allocated to them per year. While Black female representation in private equity remains low, there have been some positive trends in recent years. The number of Black women who crossed the $1 million fundraising threshold to back their startups grew from 34 people in 2018 to 93 in 2020, according to a report by digitalundivided.
However, the same study shows that Black women-led startups that don't meet that mark, raising an average seed round of $125,000. The national median seed round funding for a startup is $2.5 million, the report found. Across the industry, Black VC's say they are ready for large investment funds to make less performative gestures of racial reconciliation. What they demand instead are concrete actions to hire and retain Black investors.Solutions that have proven effective include requiring VC fund managers to monitor the amount of women and people of color in decision-making positions and adopting guidelines to invest in funds that are committed to diversity. Such actions would break the pattern of disproportionate capital distribution to Silicon Valley-based startups owned by white men.To stand out in the competitive industry, Kunst said aspiring venture capitalists must have a strong understanding of where the market for their sectors of interest is going.You get to define your own career and it's very hard to be good at investing in a space that you don't actually care about, Kunst saidThere are so many things in tech and venture capital that are cost-prohibitive and very hard to access, but information is not one of them.Venture is like being in a marriage. In order to do the job well, you have to be really curious because you're talking to tons of really smart people about their companies at the earliest stage, Roberts said. You're really getting to know the person and the team. You're building trust. You're building a relationship.
‍