KEY INSIGHTS:
By the end of this year, the firm will launch its Fund II which will be larger than its $25MM+ Fund I.
In the past month, it has invested more than $2 million in women of color-founded businesses, including one co-founded by Gabrielle Union.
Since launching in 2019, Fearless Fund now has at least 38 women of color-founded companies in its portfolio.
---
Fearless Fund, a venture capital firm built for women of color by women of color, is making moves putting that ethos into practice. In the past month, it has invested more than $2 million in women of color-founded businesses, hosted a two-day, star-studded summit for founders and aspiring investors — and the work is not done.
By the end of this year, the firm will launch its Fund II, which will be a larger investing vehicle than Fund I, which raised more than $25 million, Arian Simone, general partner and co-founder of Fearless Fund, told The Plug.
While she did not get into specifics of Fund II, Simone said that they would be branching more into Series A and Series B rounds, since Fearless Fund has so far primarily invested in pre-seed or seed. Part of Fund II will also go towards companies the firm supported in early stages that are now raising larger rounds.
"We have women now who have nine-figure valuations," Simone said of some of the companies in Fearless Fund's portfolio. "We want to be able to be along that journey with them. Women of color, sometimes when it comes to like a [Series] B or C round may be like, 'I'm just out here by myself. I know you guys got me on the front end, but who's helping me out here later on?'"
Fearless Fund invests in early-stage, women of color-led companies that are in the food and beverage or beauty and technology industries. They target five to 10 percent equity and have 38 companies in their portfolio including Slutty Vegan, Hairbrella, Travelsist and CapWay.
Last week, the fund invested $1.34 million into Bitsy's, a kid's food and beverage brand co-founded by actress Gabrielle Union, Forbes reported.
It came on the heels of $1 million in investments the firm made during its VC Summit, a two-day conference held in August that boasted speakers like actresses Marsai Martin and Tabitha Brown. The summit culminated in a million-dollar pitch competition where three female founders received investments ranging from $275,000 to $400,000.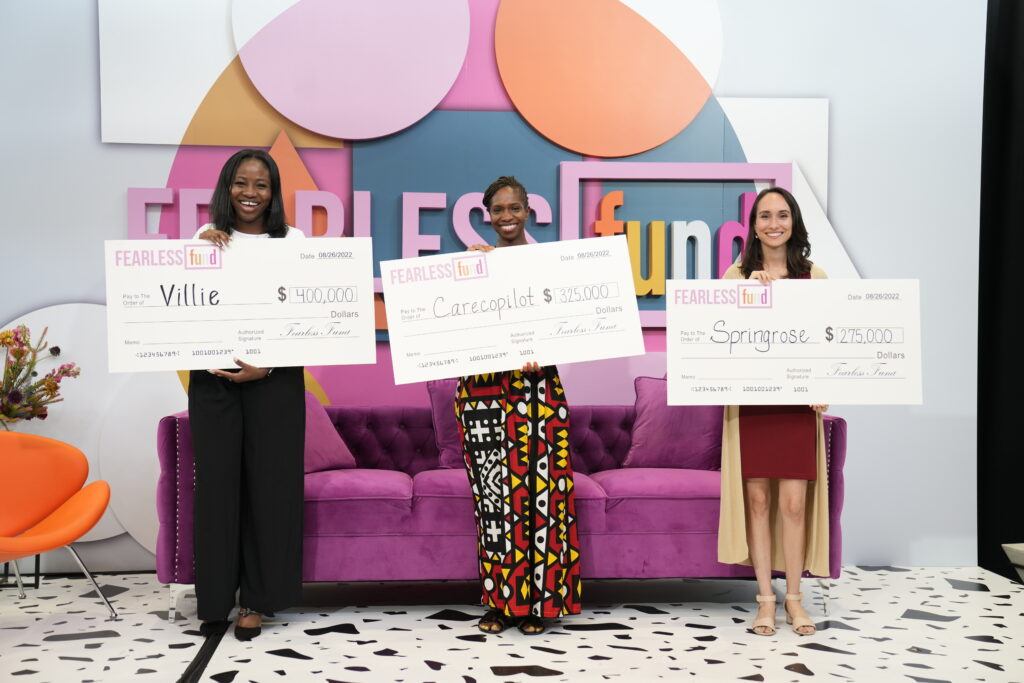 "The events superseded my expectations on all ends," Simone said.
But in a landscape filled with a plethora of conferences aimed at entrepreneurs of color, Simone goes back to the mission of Fearless Fund as what sets its annual staple event apart.
"What makes this different is being in an environment to receive from investors that look like you," she said. "That is the biggest differentiating factor. So many people said, 'You know what? I don't necessarily want to be an entrepreneur. I actually want to be just like you.'"
Venture capital is an overwhelmingly white industry — only four percent of workers are Black, according to the 2020 VC Human Capital Survey, the latest data available.
Venture investment in Black companies is even worse. Since 2009, only 0.6 percent of VC funding in the U.S. went to businesses started by Black women, according to ProjectDiane.
So far in 2022, startups with at least one Black founder received just 1.2 percent of overall venture dollars invested in the U.S., according to a June Crunchbase report.
Simone believes Fearless Fund is inspiring a new class of investors and is helping support women of color entrepreneurs.
She is a proud graduate of Florida A&M University (which has since invested part of its endowment with Fearless Fund). As a FAMU student, she worked to raise capital for her mall-based retail store and during that time, she promised herself she would one day be the business investor that she was looking for. Since 2019, she has been fulfilling that promise.
"At this point, it's surreal because I didn't see all of this," Simone said about what Fearless Fund has accomplished so far. "I'm a very spiritual woman. I do believe that God does above our imagination of what we can ask or think, but I didn't see all this. I didn't see all this at all."