Key insights
41 percent of Black-owned businesses closed between February and April 2020, the largest closure rate of any racial group
Black business owners were approved for PPP loans at lower rates and they received less money than white borrowers
One Black business owner received just $31 from the Small Business Administration
‍
While the federal Paycheck Protection Program (PPP) intended to help businesses survive the pandemic ended on May 31, the inequitable distributions of program funds continues to affect a significant amount of business owners.
In the early days of the pandemic, Black-owned businesses were the hardest hit. A report released earlier this year by the House Small Business Committee found that 41 percent of Black-owned businesses closed between February and April 2020, the largest closure rate of any racial group.
Although the PPP was supposed to help businesses weather the storm caused by the pandemic, many Black business owners did not reap the full benefits of the program even when they were most likely to need it. Not only were approval rates for Black business owners lower than for their white counterparts, but data analysis by The Plug found they also received less money than white borrowers.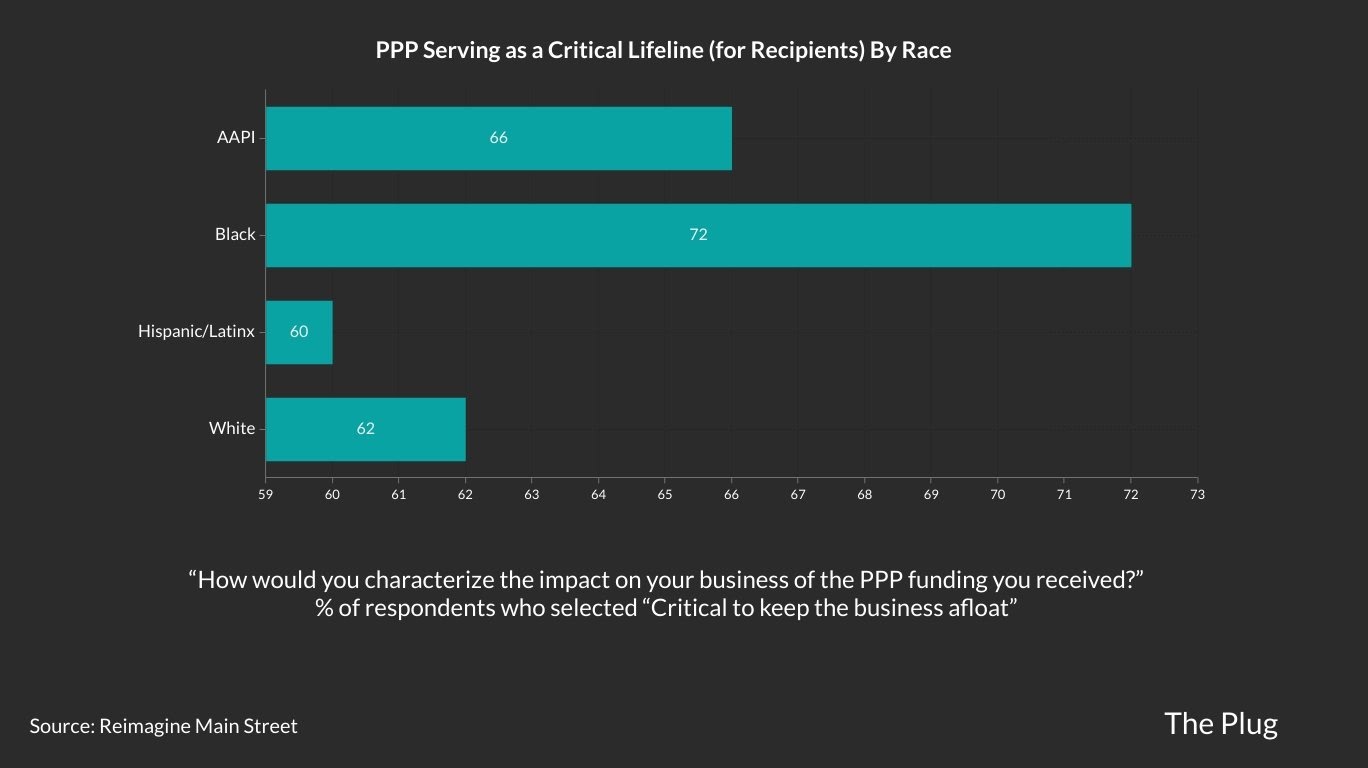 ‍
The Small Business Administration has approved more than $790 billion of PPP loans since April of last year. In 2021, Black borrowers had more than 775,000 loan applications approved, totaling $15.2 billion. Slightly more loans were approved for white borrowers — around 899,000 — but they received nearly three times as much money, $42.9 billion.
Of the more than 700 borrowers that were approved for $10 million loans, the maximum allowed, only four identified as Black. SAG-AFTRA, the Los Angeles-based union that represents around 160,000 actors, journalists and other media professionals, is one of the four identified by The Plug, which also found that only one of the 10 members of the board is Black.
On the other end of the spectrum, a home care agency in North Carolina received just $31, the lowest approved amount for any Black business owner. Multiple white business owners also received very low sums, some at $5 or less.
But while the lowest individual loan amounts may have been marginally less for white borrowers than Black, the majority of PPP applications did not identify the race of the borrower — 75 percent of all approved PPP dollars went to borrowers who did not disclose their race, according to the SBA.
The share of Black borrowers approved for a PPP loan was 12 percent, which is comparable to Black Americans' share of the US labor force. Yet only 5.6 percent of the total approved PPP dollars went to Black borrowers, another indication that many of their loans were for small amounts.
But while white borrowers over indexed slightly at 14 percent of approved loans, they accounted for 16 percent of approved dollars. Other individual race groups were at parity or better for their share of approved loans compared to their share of approved dollars.
‍
The disparity has caused concerns that it could lead to a longer recovery for Black businesses. A recent survey by Reimagine Main Street found that 67 percent of Black business owners expected a slow recovery, meaning it would take at least six months before reaching pre-pandemic revenue.
The Plug's data analysis suggests that, as the economy continues its recovery, albeit with the threat of Covid variants looming, Black businesses are still operating in an uneven playing field.