Anyone who is immersed in the tech world knows the disparities that Black founders and innovators face. A lack of funding, support, and diversity within the organizations they work stalls progress and keeps opportunities from people of color at just about every level. We know the numbers by now: Just 1 percent of VC funding goes to Black founders and the largest tech companies have seen minimal gains in their diversity numbers over the past several years. These problems have roots in Silicon Valley, but have spanned to just about anywhere tech ecosystems have been established. Leaders in places like Chicago, Austin, and Atlanta have been working for years to fight the inequalities that technologists and entrepreneurs in their communities face. But as that work has been done, another issue has arisen.
Over the years, we've watched hubs supporting Black and brown innovators establish themselves in cities across the country. From accelerators like Hillman in Cincinnati to Black tech conferences like Black Tech Week in Miami, instances of supportive communities where Black founders and technologists make connections, access resources, and increase their operations acumen, have existed out of necessity.
While the work of these supportive communities can provide lifelines for emerging innovators from smaller local markets to larger national initiatives, understanding where, why, and how they exist, can sometimes feel scattered and disconnected. If you're a founder or tech creative in the midwest, it's likely that the bulk of your resources are confined to your network, with little connection to other like-minded people or organizations in different parts of the country.
So what would a superhighway of ideas between organizations supporting Black and brown founders look like? What if every founder and technologist of color had access to the same resources? And how would foundations and companies eager to support Black founders know where to spread their resources to ensure greater support for the ecosystem at-large?
This is where the Black Innovation Alliance comes in.
Launched in June by a group of over 40 creatives, entrepreneurs, and technologists, the alliance wants to make the innovation economy a fair playing field for Black innovators and support the organizations doing the work to make sure economic advancement becomes a reality for those in their networks.
"We need an infrastructure. It's just like any major system that's built, whether it's the internet, whether it's the highway system, whether it's telecom. There are major investments made in that infrastructure so that resources can flow. And that's the conversation that we're having and it's an area that's received very little attention and even less investment" says Kelly Burton, who runs Founders of Color and is one of the co-conveners of the alliance. She uses the term "convener" to stress that the organization doesn't have a founder or co-founders and that it's a collection of like-minded people trying to achieve the same goal.
Infrastructure is just one of several pillars that the BIA is focusing on. With a base of over 30 members so far, their vision is to have 500 organizations on board to create a sustainable and fortified network of Black innovation hubs supporting Black business and genius.
‍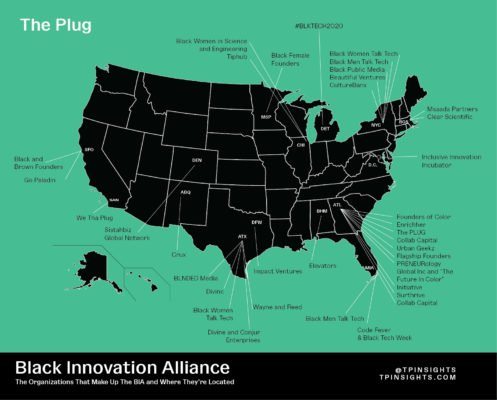 This work was always necessary but is even more vital in our current moment as funders, organizations, and major companies have expressed interest in supporting the kind of work the organizations that make up the BIA focus on.
Over the next several months, as part of our Mapping Inclusivity Series, The Plug will be tracking the BIA's progress with this mission and updating our audience on which members of the alliance are in their community. Do you live in Austin and want to know who is part of this initiative in your city? You can check out the BIA database which shows each organization in the alliance and where they're located.
Thanks for following along, and we look forward to keeping you updated.
Disclosure: The Plug is a member of the Black Innovation Alliance.
This story is possible thanks to support from the Ewing Marion Kauffman Foundation, a private, nonpartisan foundation that works together with communities in education and entrepreneurship to increase opportunities that allow all people to learn, to take risks, and to own their success. For more information, visit www.kauffman.org and connect at www.twitter.com/kauffmanfdn and www.facebook.com/kauffmanfdn.
‍