KEY INSIGHTS:
Funding for digital health companies reached $10.3 billion in the first half of 2022, a slowdown from the record capital infusion in the industry in 2021.
The Plug has identified over 100 Black-founded health tech companies focusing on mental health, skin health and maternal mortality.
The top-funded health tech area in H1 2022 was mental health; one of the leaders in this space, Shine, was recently acquired.
---
The pandemic has cast a light on the need for the technologization and digitization of the healthcare system. But long before COVID-19, Black founders have been building health-based tech to address needs outside of the traditional medical system. Of more than 100 Black-founded health tech companies that The Plug has identified, only 13.7 percent — 16 companies — launched between 2020 and 2022.
The oldest company in our database is Nuekie, a health and beauty company for people of color founded in 2003 by Eunice Cofie-Obeng, a chemist and an alumna of Florida A&M University.
Overall, 51.3 percent of the companies in the database are women-led and 19.7 percent are HBCU graduates.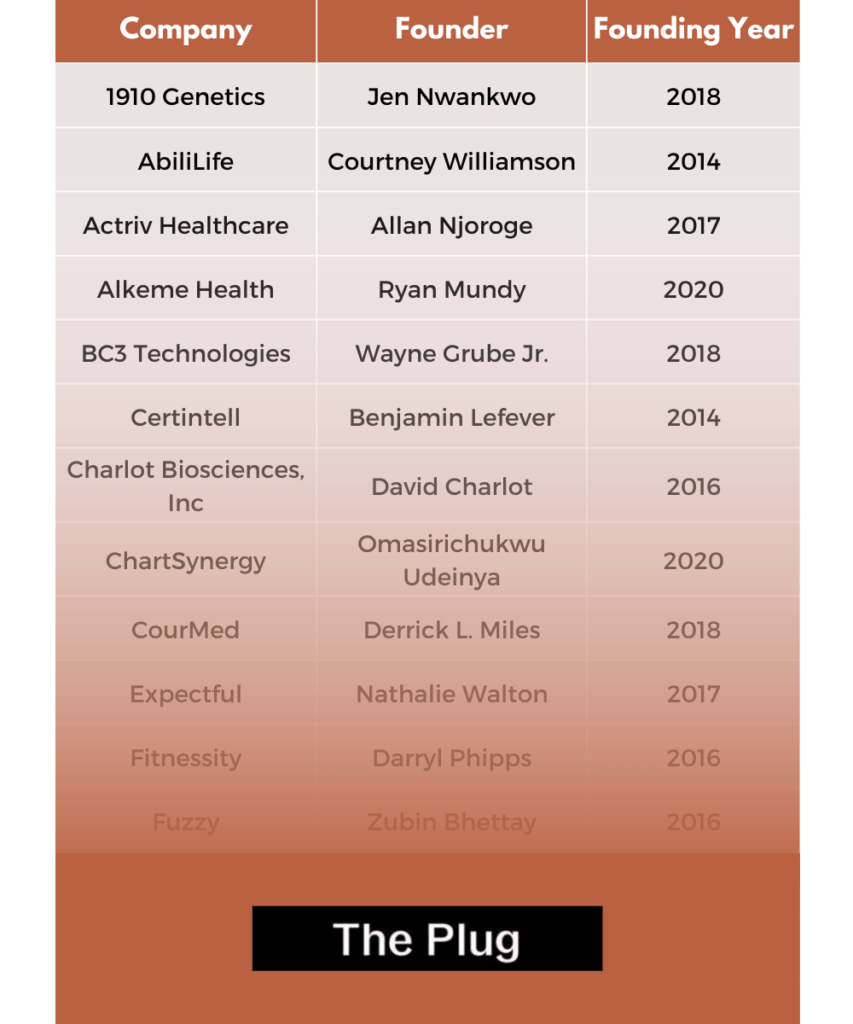 Last year, total funding among U.S.-based digital health startups amounted to $29.1 billion, a record for investment in health tech, according to a Rock Health report.
While investments in 2022 slowed, funding in health tech remains substantial. The first half of the year saw $10.3 billion across 329 deals. One of the top-funded areas has been digital mental health startups, with $1.3 billion in funding.
Several of the health tech companies The Plug identified are mental health and wellness platforms, including the BIPOC-focused Shine app. It was created by Marah Lidey, a Black woman, and Naomi Hirabayashi, a half-Japanese woman, who did not feel their identities represented in mainstream wellness.
Shine has raised at least $10 million in capital and was acquired by mental healthcare platform Headspace Health in September.
"After six years of building Shine, we're thrilled to join Headspace Health to scale the urgent work of closing the equity gap in mental health – something Naomi and I have often felt first-hand," said Lidey, co-founder of Shine, in a press release.
Within health tech, funding for femtech — women's health software and tech-enabled products — has also been on the rise. Global venture capital funding for the industry crossed $1 billion in 2021, and one of the reasons for this growth is the increased representation of women in venture capital.
However, it is unclear how much of that money has gone to Black founders or even women founders. One of the biggest femtech deals in 2021 was Flo's $50 million Series B round. Two white men co-founded the company.
Black women founders who have built health tech companies that focus on reducing maternal mortality rates among Black birthing people have struggled for funding. The Plug recently identified at least $34.9 million in VC funding to seven startups including Mahmee, Health in Her HUE and LOOM — $15 million less than Flo's one raise.
Another trend area of need among Black-founded health tech companies is skin health. Although Black people are less likely to develop skin cancer melanoma, the five-year survival rate of Black people with the disease is 66 percent compared to 90 percent for white people, according to a Centers for Disease Control and Prevention study.
Kimberly Wilson, founder of HUED, a platform that connects Black and Latino patients with culturally competent providers, also focuses on eliminating bias in skin health and dermatology.
Research has found that doctors are less likely to accurately diagnose skin conditions in patients with darker skin due to the lack of diversity in skin tones in dermatology training as only 4.5 percent of medical textbooks depict dark skin tones.
In 2022, HUED launched the See My Skin project, supported by Vaseline, where users can search for skin conditions and connect with dermatologists. The company received $100,000 in funding from the Google for Startups Black Founders Fund.
The need for health tech is clear, especially when serving populations who feel unheard by the medical system.
"If I go on Google and I type 'psoriasis' or I type 'bumps on foot' and all I see is pictures of white people with psoriasis or bumps on foot I have to type 'Black person bumps on foot,'" Avery Smith, founder of Black skin health platform Melalogic, told The Plug. "That's a problem. There should be enough nuance and sensitivity in our technology in order to take that into account."