As of June 17, Juneteenth is now a national holiday. One year ago, that statement seemed far-fetched, but today, most federal employees are off work in observance of the day when enslaved Texans in Galveston learned of their freedom, two and a half years after the Emancipation Proclamation was made effective.
However, private companies are not obligated to observe federal holidays, and in the case of Juneteenth, it was only last year that big tech companies really began to acknowledge it. In the wake of the murder of George Floyd, a group of creatives, technologists and artists at Hella Creative started a campaign to educate and push companies to observe the holiday by giving their employees the day off. It eventually got a major signal boost from Twitter's CEO Jack Dorsey.
"Jack posted that Twitter would be acknowledging and honoring Juneteenth as a day off," Miles Dotson, one of the founders of Hella Creative, told The Plug. "After that, it was a tidal wave."
To date, more than 800 companies have joined the initiative and committed to observe Juneteenth. This year, some of America's biggest tech companies are giving their workers a day off while others are hosting conversations featuring people like Tina Knowles-Lawson, Erykah Badu and Dr. Henry Louis Gates.
This is how seven companies are observing the holiday:
Apple
Apple recognizes Juneteenth as a company holiday and is giving their employees the day off on Friday, June 18. Additionally, Apple recently announced a $5 million grant to support engineering schools at four HBCUs: Alabama A&M University, Howard University, Morgan State University and Prairie View A&M University; the money will be split evenly among the schools. In January, the company also announced the launch of Propel Center, a partnership with nonprofit Ed Farm designed to build a hub for leadership and career development for HBCUs, expected to break ground in Atlanta this fall.
Facebook
Employees at Facebook are free to take a paid day off on Friday, June 18, but it is not a company holiday. The company says they are hosting a "day of learning" which includes discussions with renowned scholar Dr. Henry Louis Gates, Tina Knowles-Lawson and more. This week, the company has also been highlighting Black-owned businesses in Galveston, Texas, on their platform.
Twitter
Last year, Twitter officially made Juneteenth a company holiday and gave employees the day off; the company will again observe the holiday this year.. They have also created custom emojis for #Juneteenth and #HappyJuneteenth.
Microsoft
The company will not be offering employees a day off, but instead will host a day of "exploration, learning, and engagement" on June 21.
"Our approach is not to offer a vacation day; but instead use this day to create time and space for employees to better understand critical topics related to race, ethnicity and racial injustice," Lindsay-Rae McIntyre, Microsoft's Chief Diversity Officer, said in a statement. She did not clarify if any events were planned for employees.
‍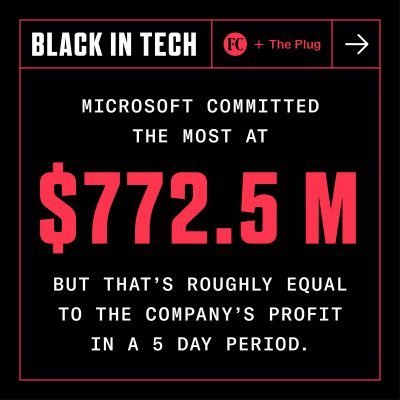 A recent report by Fast Company, in collaboration with The Plug, found that, of all tech giants, Microsoft had committed the most money in the past year to diversity, equity and inclusion efforts, but the total amount of money invested was equivalent to just five days of profit.
Netflix
The company says it does not have any set holidays, including Christmas or New Year's, and Juneteenth is not observed.
Google
Google is not giving employees the day off but has instituted a no-meetings day on June 18, encouraging them to use it for celebration, learning and reflection. The company is hosting a two-hour company event featuring a conversation and performance by Erykah Badu. They also recently announced ten $5 million unrestricted grants to the HBCUs that are part of its Pathways to Tech initiative.
Amazon
Amazon is not giving employees the day off, but is hosting educational panels about the holiday and an exclusive performance by Alvin Ailey dancers. They also said they are a sponsor of the livestream concert Juneteenth Unityfest and Blk Freedom's 2021 Virtual Museum Experience featuring 10 African American history museums.
‍