The Plug has obtained legal filings of an ongoing class-action lawsuit against electric vehicle company Tesla that alleges more than 100 employees experienced racism, harassment and discrimination while working at Tesla. Bryan Schwartz, a civil rights attorney working on the case, spoke to The Plug about the allegations.
"There are 105 sworn declarations of people talking about the racism in the factory, I doubt it's ever been seen before. To have that many victims of harassment at one plant is really extraordinary and rare," Schwartz told The Plug.
"That's not how many victims there are, that's how many people have already sworn under oath. How many people are victims? It's many, many times that," he said.
Schwartz first filed a class-action lawsuit against Tesla in 2017, but over the years the company has deployed several tactics that prevent the case from being settled in court.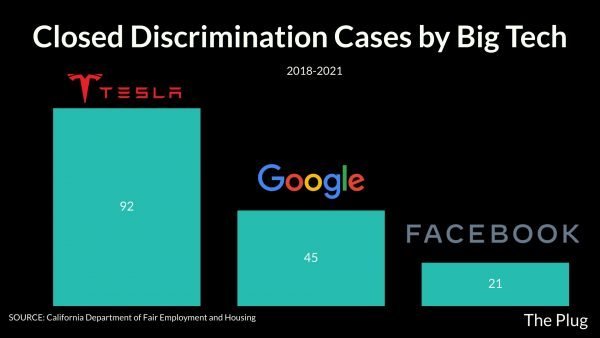 "Tesla's main technique has been to stall, delay, create obstacles and move as slowly as possible. At the end of the day, they have almost no defense, so their only tactic is to try and gum up the works of justice," Schwartz said.
Tesla compelled his client Marcus Vaughn, a former Freemont, CA factory worker, to arbitration although he had never signed an arbitration agreement, Schwartz said, what he describes as a bogus use of arbitration agreements.
In court, Tesla argued, "[Vaughn] absorbed one by osmosis by walking into their factory," an argument the court rejected. Instead of moving forward with the case, Tesla appealed in what Schwartz described as a move to buy more time.
"The court of appeals swatted it down as well but that chewed up almost two years," Schwartz said. "Another game they play to confuse and delay things is using staffing companies to employ the factory workers there and pretending like that uniformly gets Tesla off the hook for the racism that they suffer there."
Tesla's latest earnings reveal the company, notoriously bankrolled by green tax credits, has made little headway on its profitability problem. For years, the company has struggled to achieve financial viability, reportedly being called a "reg flag" for investors.
Without regulatory credits, the company would have posted a loss in 2020, but instead has remained marginally profitable from selling eco credits to other automakers who haven't met state minimums for zero-emission vehicles sales.
Tesla declined multiple requests for comment, but a July company-wide memo to employees from HR alluded to how the company is responding to racial harassment litigation lodged against the company. At the end of 2020, Tesla had more than 70,000 employees, 10 percent of which are Black according to its latest diversity report.
"I want to take a moment to remind everyone that some of the language that we use to show respect outside of work, should never be used in the workplace," Valerie Capers Workman, Tesla's Vice President of People, said in the memo. "As we know, in many cultures there are certain words—epithets, slurs, and such—that were created with the full intent to demean, dehumanize, and create an imminent sense of danger and fear in the target."
"Tesla expressly forbids all such slurs, epithets or derogatory expressions based on any characteristics a person may have," the memo continued.
This statement contradicts several of the 105 sworn testimonies against the company. Aaron Minor, a former production associate who left the company in 2019, said in his sworn testimony that he would hear the n-word used on a daily basis at the factory, used by associates, line leads and even supervisors at the Tesla factory.
The racial slur was not just spoken to Minor and his Black colleagues, according to his statement, but was also scribbled on bathroom walls throughout the factory along with other racist insignia, including swastikas.
Marcus Vaughn describes his own experiences of racism and how a fellow Black employee Timothy Cotton attempted to speak up about what was happening at the company. Cotton was physically assaulted, being hit in the back of the head with a chair after he spoke up.
"Our new manager didn't care, she told me her job was to make sure cars got out and to do my job," Vaugh said in an interview with More Perfect Union. "It starts to wear on you mentally." after writing Tesla CEO Elon Musk a letter about what he was experiencing, Vaughn was fired for "not having a positive attitude."
"They wanted to make a statement of 'this is what happens when you stand up for something you believe in'," Vaugh said.
Racism at Tesla is not confined to the factory.
A Black engineer who left the company in 2020 after more than six years described similar language and behavior among higher-ranking employees. The engineer spoke to The Plug on condition of anonymity for fear of retribution.
"I had a manager who made a lot of really insensitive jokes, during that time I avoided him and didn't know about the legal landscape, so he ended up retaliating when I tried switching teams," the engineer told The Plug. "He tried blocking my transfer. I made a complaint to HR, they did an internal investigation but dropped my claims."
The employee was eventually able to transfer but was fired upon joining the new team. Another manager vouched for the engineer and they were reinstated. They stayed at the company for two years after this incident.
"After I left I became less afraid around how all the legal processes work, as I heard more and more come out in legal cases I realized I never really understood my rights working there," the engineer said.
"If I had known what I know now I would have been way more empowered, strategic and safe in how I go about certain conversations. In retrospect, the least I can do is support the people I know who are still there."
Data from the California Department of Fair Employment and Housing found that Tesla has closed 92 legal cases over a three-year period, from 2018 to 2020, lodged by individuals accusing them of denying several employees of a work environment free of discrimination, reasonable accommodations for a disability, and gender-based denial of equal pay among other discriminatory complaints. There are a staggering number of complaints compared to Facebook's 21 cases and Google's 45.
While most cases against Tesla and many other big tech companies typically never make it to court, the case of former factory worker Melvin Berry was settled in court, awarding him $1.02 million in damages.
Tesla's defacto forced arbitration policy makes it hard for racial discrimination cases like Berry's to advance in court, much less result in a monetary settlement. The majority of Berry's settlement will go towards paying legal fees, but Tesla has also been ordered to pay Berry $266,278.50 in damages, including $100,000 for emotional distress.
"In similar race harassment cases, individuals can win millions for having to suffer this kind of harassment, per person. We believe the class will number in the thousands," Schwartz said.
"Tesla will have to pay for hundreds of arbitrations for these claims, each one of them could cost them five to six figures easily. Any rational corporation would look at those costs and say 'this is not a good use of money.'"
Schwartz said loopholes used for knocking down discrimination cases won't hold up much longer.
"We're confident, ultimately, that Tesla will be held accountable for the way that people are treated in their factory, whether they work there through staffing agencies or as direct Tesla hires," said Schwartz.